10 Tips for Camping with Friends - Panergy
July 28, 2022
by Regina Wu
​​If there was a universal camping bible, there would definitely be a chapter on camping with friends. Like camping solo and camping with kids, camping with your chosen family is a fun way to get out and experience the great outdoors. There are, however, a few things to keep in mind if you want to go out as friends and come back as friends. After all, any time you add another human into the equation, things can get complicated. At the very least, more patience is required. Whether you're heading out with just your bestie or your fab five, here are ten tried and true tips for camping with friends.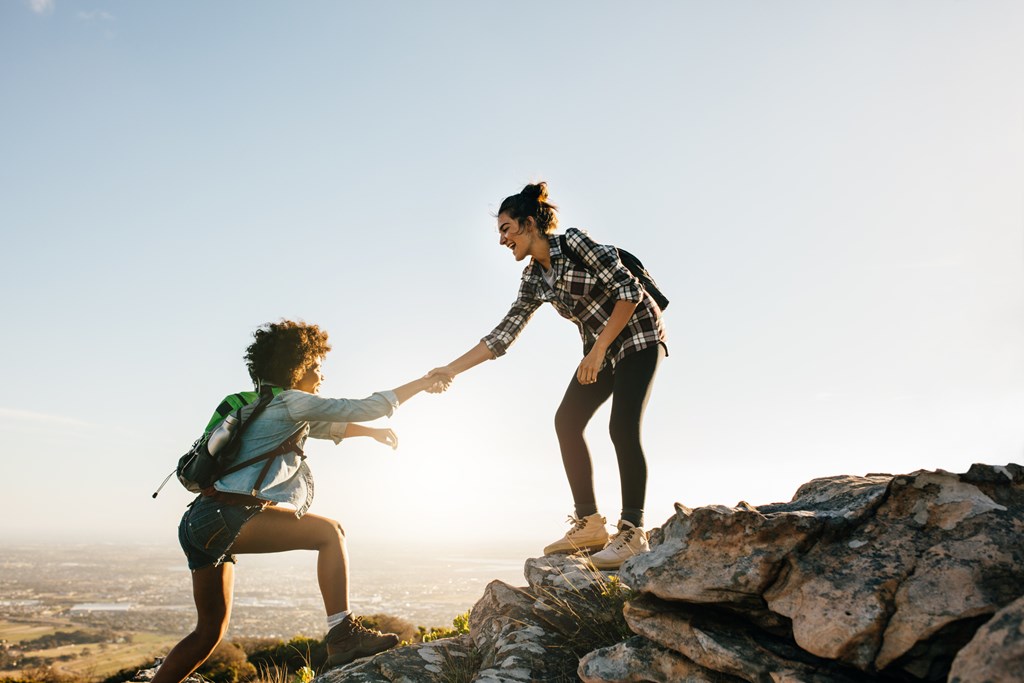 1. KNOW YOUR FRIENDS & THEIR CAMPING STYLES
Much like you wouldn't play Monopoly with a friend who can't sit still for hours, you probably don't want to head into the woods with a friend who claims they're allergic to the outdoors. "Not everyone loves hardcore backpacking, and not everyone loves chilling by a lake for a week," says Hanna Ashcraft who encourages women to camp with via her blog, Moderately Adventurous. "Find out what kind of trips each of your friends like and where they are excited to camp. By planning trips that satisfy what others like the most, you're not forcing a chill-by-the-lake friend to hike 12 miles through the backcountry or asking your backing friend to just relax for five days."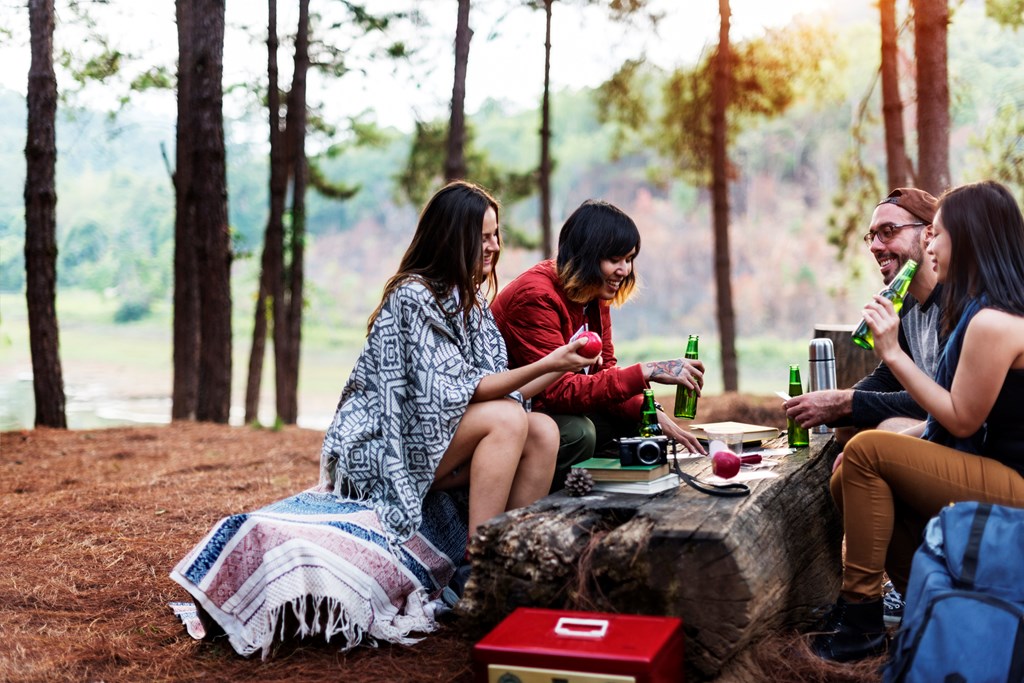 2. KEEP THE GROUP SIZE MANAGEABLE
When Alec Sills-Trausch isn't working as an adventure photographer and writer, he can often be found camping with friends. His first tip is to try not to bite off more than you can chew. "It's hard to group campsites to satisfy a large group" says Sills-Trausch. Plus, more isn't always merrier. Much like you wouldn't try to play basketball with a team of 10, it's probably wise to keep your group size manageable. If it's your first time camping with a group of friends, maybe try going with a smaller group like four or five.
3. ESTABLISH EXPECTATIONS EARLY ON
First of all, know how each of you define "camping." Laura Witt, founder of Amateur Adventure Journal, often has to reset her expectations based on what camping means to her friends. "To some people, camping means roughing it at a dispersed campsite with no amenities," she explains. "Other friends may expect a less rugged experience." If you're doing the inviting, make it clear as to what you mean by 'camping" and be prepared to meet less experienced camping friends where they're at.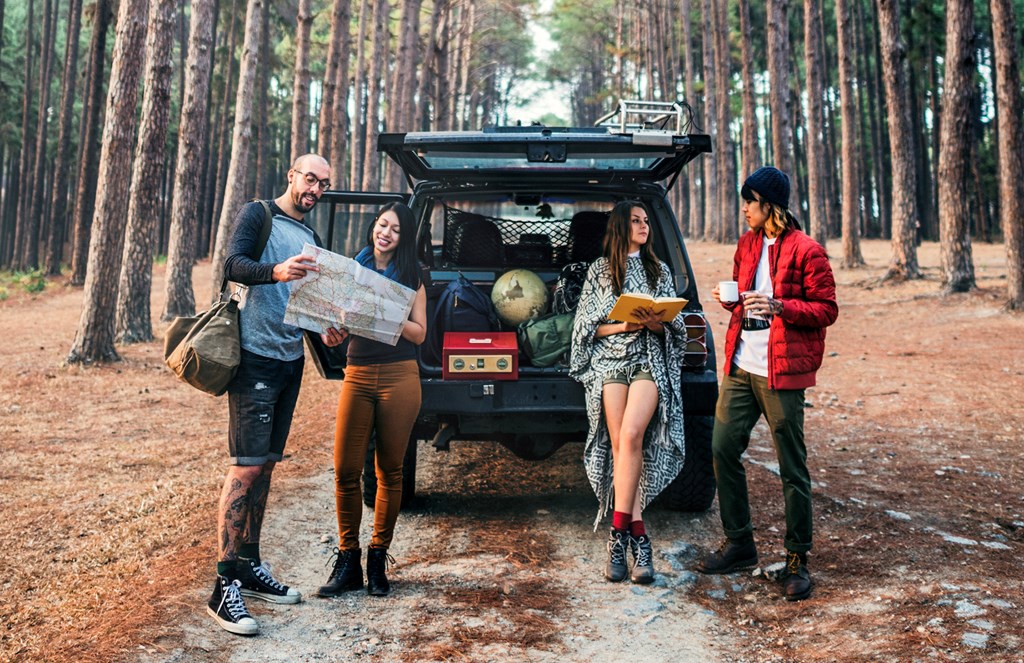 4. HAVE A PACKING PLAN
Once expectations are established, the planning can begin. To avoid everyone showing up with a badminton set or lawn bowling pins and no one showing up with s'mores supplies or propane, make a packing list in advance. Samantha Meabon, who blogs at PAonPause.com, likes starting a Google document to keep track of who is packing what. "Everyone can fill in food, supplies or games and activities they'll bring. This way, you won't end up having 12 bags of marshmallows and no chocolate!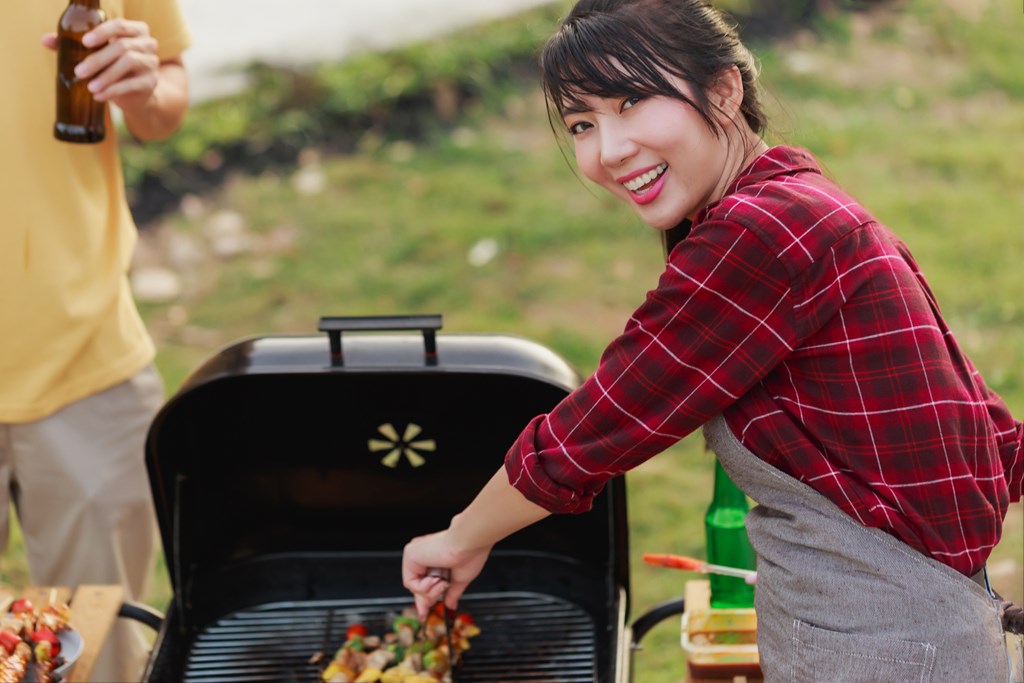 5. ASSIGN MEALS FOR CERTAIN DAYS
When they work, potlucks work well. But when too many people show up with salads and no one has a main, everyone goes home hangry. That's why Erin Moreland, a weekend warrior and founder of the travel blog Super Simple Salty Life, and her friends assign meals in advance. "That one friend who doesn't cook- can be responsible for providing all of the utensils and plates," says Moreland. "It's a win-win for everyone, and less time is spent preparing food so more time can be spent having fun camping!" Note if your friends have any food allergies and/or preferences. If you're the friend with specific needs, have a cooler full of your "safe" foods that are just for you.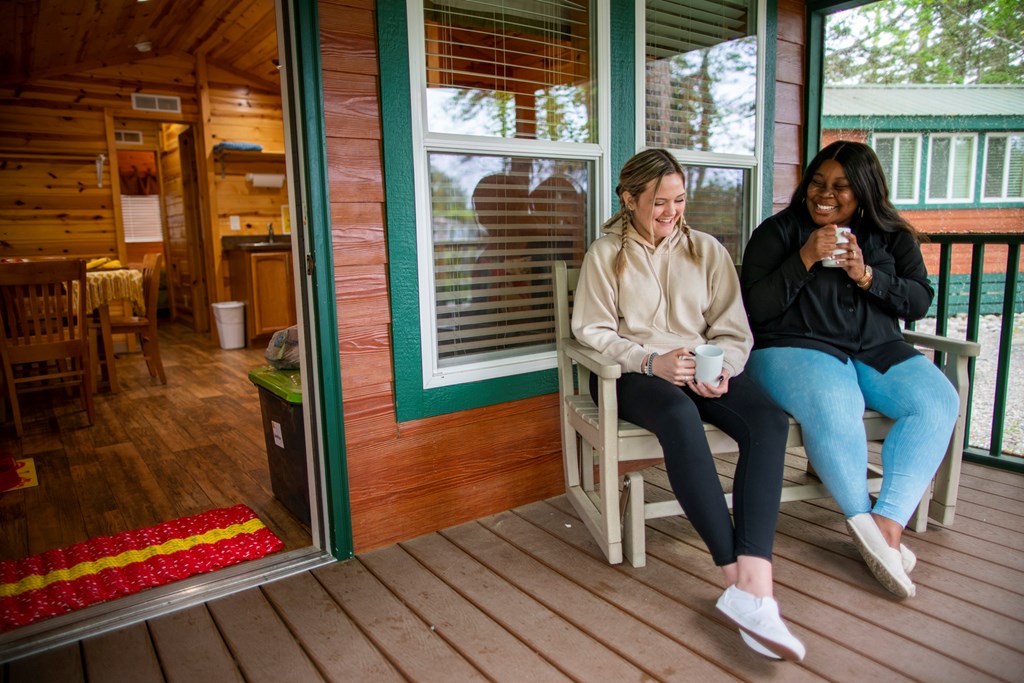 6. START SIMPLE
Jessica Schmit, founder of Uprooted Traveler, agrees. "If you're camping with someone you've never camped with before, it's best to start with something laidback and accessible. Once you get to know the camping styles of your friends better, it's easier to plan a more ambitious trip the next go-around." Consider private campgrounds like KOAs that not only offer more services, but also have more accessible camping options like Deluxe Cabins.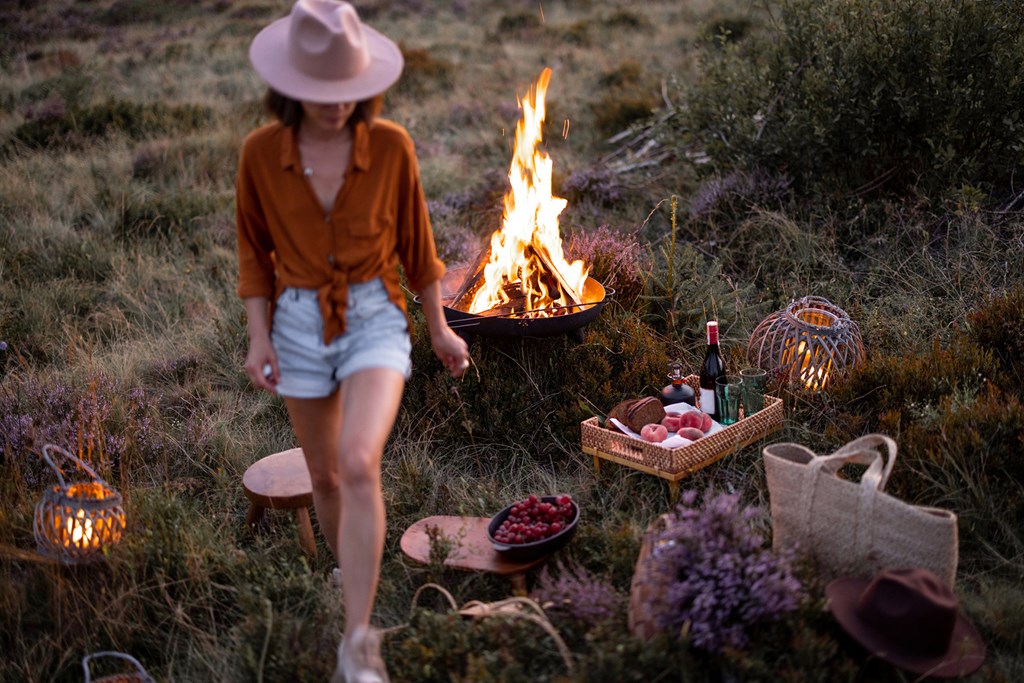 7. GIVE EACH OTHER SPACE
Even if you're the best of friends, you probably don't benefit from being around each other 24/7 – especially if one of you snores. Whether giving each other space means sleeping in different tents or doing different activities during certain parts of the day, be prepared to do it. And talk about it in advance. "I've found discussing group activities ahead of time helps limit any tension," says Georgia McBroom, co-founder of Camper FAQS. "That way nobody will feel obligated to do something they don't want to.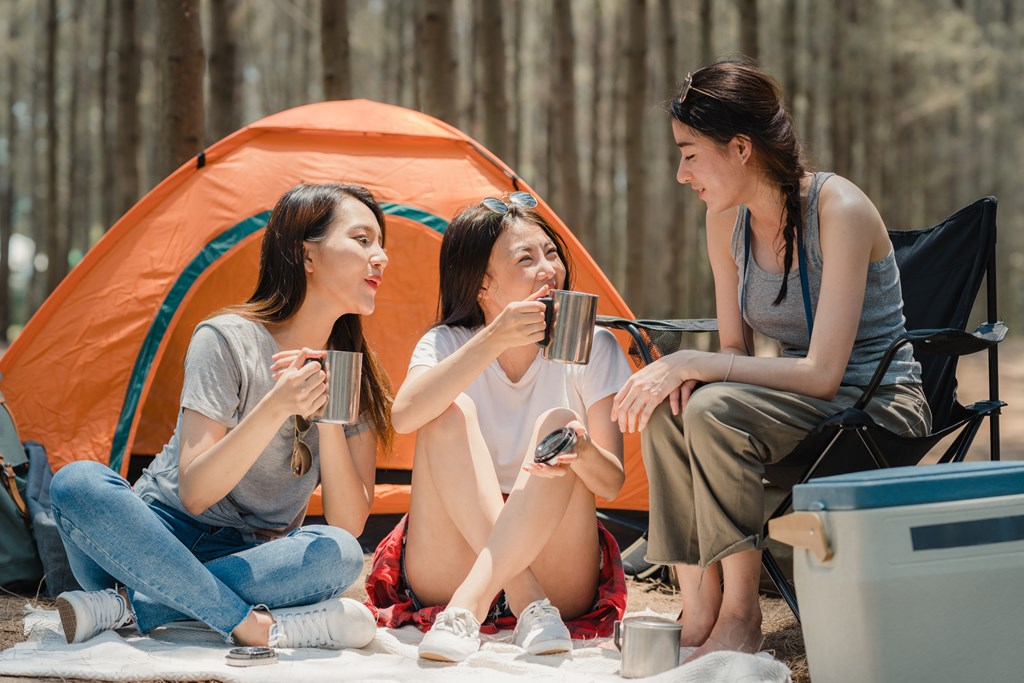 8. ENCOURAGE EACH OTHER TO DISCONNECT
When Zach Frantz camps with his friends, he tries his best to be present, and to remind his friends to, too. "Put your phones down and enjoy the moment, nature and each other's company," says the founder of the camp coffee brand Wildland Coffee. "The best camping moments are when you're sitting around the fire either enjoying the peace and quiet, playing campfire games or having great conversation."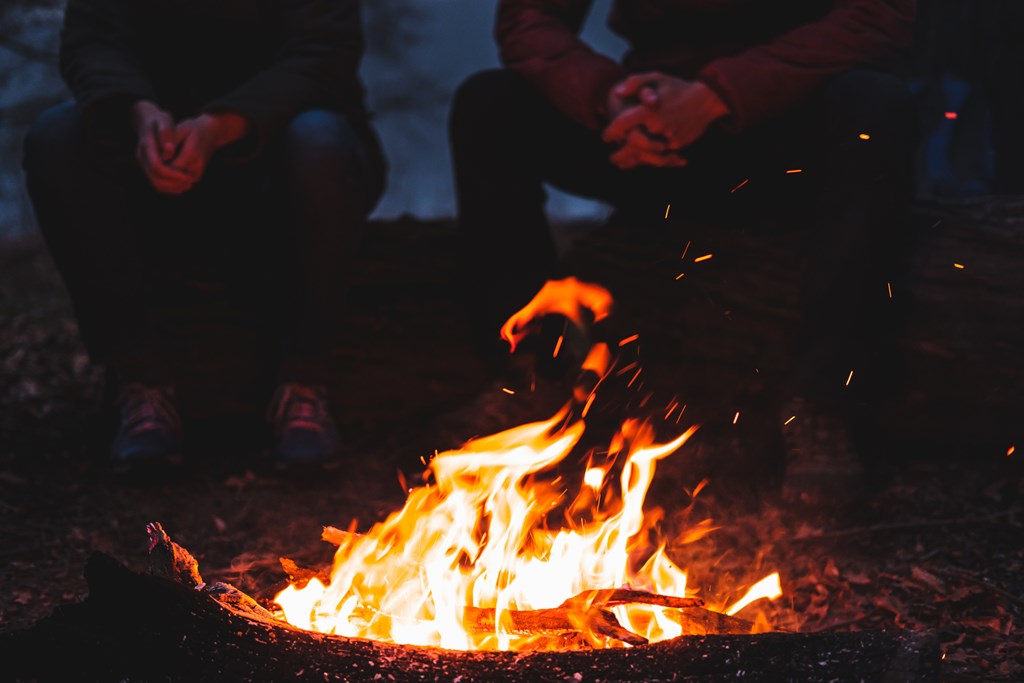 9. ENCOURAGE EACH OTHER TO RECYCLE
When two or more are gathered, bottles, cans and plastic tend to pile up. Alex Gillard suggests bringing along designated bags or bins for recycling. "Label them and let everyone know this is where recyclables go," says the founder of Nomad Nature Travel. Similarly, he recommends being on the same page when it comes to following fire rules. "If you're someone who takes sustainability seriously and an area has prohibited fires because of forest fire risk, then you're likely going to have a problem with a friend who smokes or insists on having a bonfire."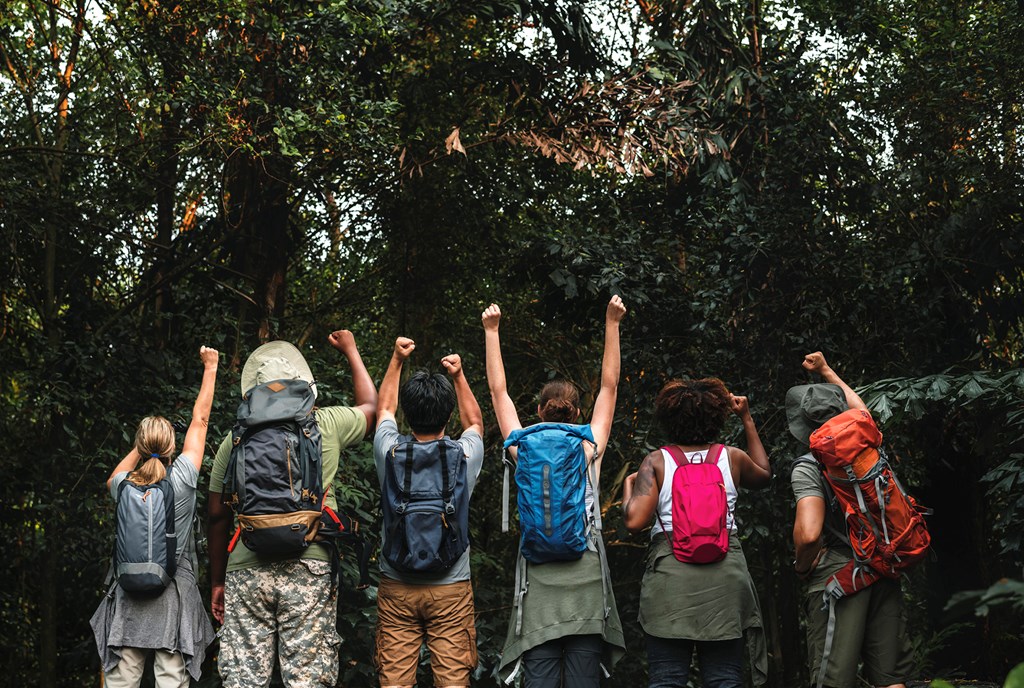 10. BE FLEXIBLE
Even if you make plans galore and go to the trouble of crafting a stellar schedule, remember that being flexible can be more rewarding than sticking to an agenda. When Melanie Musson camped with her friends for five days last year, they made a point to go with the flow. If their kids were enjoying themselves, they let them keep doing what they were doing – even if it cut into other activities. "We spent a lot of time at the lake because everyone loved it," recalls Musson. "We could have gone hiking or driving but everyone was happy not having to jump from activity to activity."
Leave a comment