10 Tips for City-dwellers Who Want to Try Camping - Panergy
July 27, 2022
by Regina Wu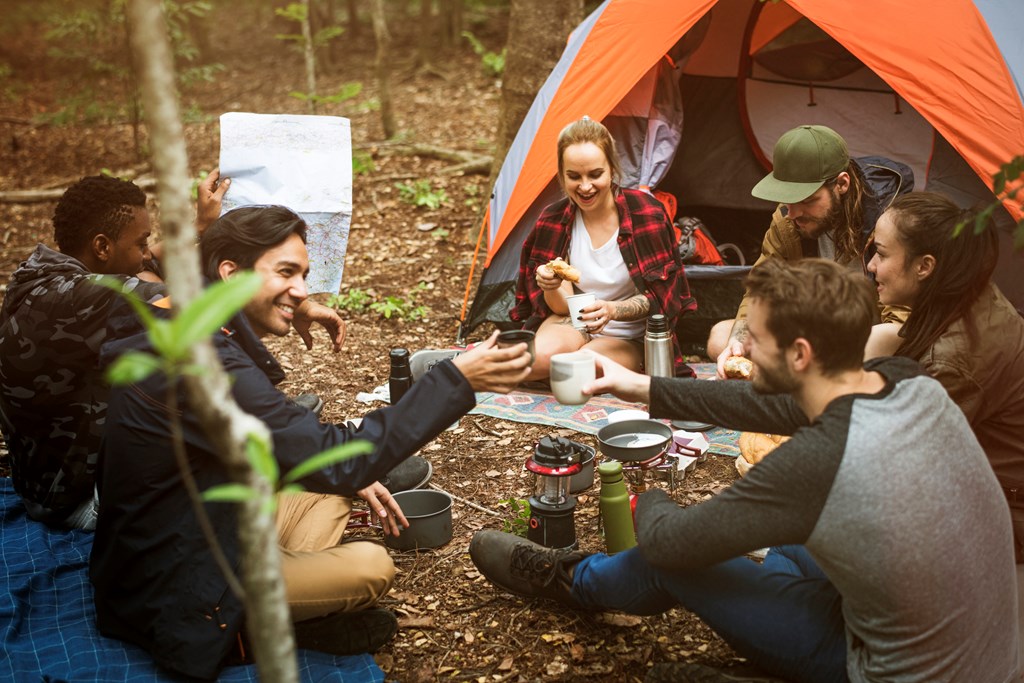 Maybe you camped a few times growing up or have always stayed in hotels on vacation. Camping is definitely different from staying in a hotel room. One obvious difference is the nature you'll find just outside your tent or cabin door. The following tips are meant to help guide you through getting back into camping or doing it for the very first time.
1. EXPECT TO HAVE FUN
There are plenty of reasons for wanting to give camping a try. Being close to nature, trying new outdoor activities, connecting with friends and family, and putting down digital devices to re-connect with books or your favorite arts and crafts are all part of the same thing, having fun! Get ready to unwind on your camping trip and enjoy the experience.
2. KNOW THE DIFFERENT TYPES OF KOA CAMPGROUNDS
When you stay with KOA, there are three types of campground to choose from, depending on your camping needs. KOA Journey campgrounds are easy to access from main roadways and are convenient stops along road trip routes. KOA Holiday campgrounds have fun things to do at camp and make great starting points for local exploration. And at KOA Resort campgrounds, you don't have to go anywhere else to feel vacation vibes. Kick back at the pool, order a snack and get ready to play some games with friends.
3. CHOOSE YOUR ACCOMMODATIONS
When you think camping, you think tents. Right? A tent is great for getting out amongst nature while giving you some privacy and protection from the elements. KOA campgrounds offer tent-ready, flat camping spaces kids and the young at heart will love to spend the night in.
But when you book a campsite at KOA, there are several ways to stay. Pull an RV, camper van, or trailer into a campsite with electricity access and sewer hookups. If you don't have a vehicle to camp out of, rent one to see how you like it. Set up an outdoor living room and get the grill going on the campsite's surrounding patio space.
Or if you prefer an even easier way to camp, rent a camping cabin or other unique lodging option at your destination KOA. Camping cabins are solid, permanent structures with actual beds! Cabins come with different sleeping configurations, some with bathrooms and kitchenettes. Unique lodging options range from tree houses to train cabooses—pick your adventure.
4. RENT OR BORROW GEAR YOU NEED
If you're trying camping for the first time or the first time in a long time, renting or borrowing the camping gear you need is a great idea. Ask friends and family who often camp if you can borrow camping basics from them like a tent, sleeping bags, camp table, chairs and stove, or arrange to rent them from a camping outfitter. If you want to try an activity for the first time, like mountain biking or fly fishing, find out if you can rent equipment for these near your campground or bring them along for the ride.
5. CHOOSE EASY FOOD OPTIONS
If you love to cook, cooking outdoors on a gas stove or over the campfire can be a fun challenge, but if you don't like to cook, try not to become overwhelmed—take it easy. Some KOA campgrounds have onsite restaurants and snack bars, giving you a choice to cook or not. Breakfast is the easiest meal to make yourself. A cup of hot coffee, a muffin, and a piece of fruit will do. Lunch comes in second with sandwiches and dinner? Well, you can always find a restaurant in town.
6. BE PREPARED TO GET AROUND AT NIGHT
If you're camping in a tent or other accommodation without a bathroom attached, you'll most likely need to visit the bathroom when it's dark. KOA campgrounds are well-lit, but some dark corners will still be out there. Put on your shoes, turn on your flashlight or lantern to light the way, and beware of nocturnal animals.
7.KNOW YOU'LL SHARE COMMUNAL AMENITIES
KOA campgrounds provide clean bathrooms with hot showers, laundry, and dishwashing stations. Depending on how busy the campground is, you may need to wait for your turn to scrub up. Consider coming back during a downtime when you can have the bathroom or laundry room all to yourself, or practice patience and strike up a conversation with your fellow campers in line.
8. PARTAKE IN CAMPGROUND ACTIVITIES
Looking for entertainment? Many KOA campgrounds have fun things to do on-site like lawn games, horseshoes and cornhole, bike rentals to tour the campground, and a refreshing swimming pool. There are also seasonal activities like hayrides, square dancing, and arts and crafts to look forward to.
9. BE READY TO EXPLORE
As you head out of camp to explore nearby attractions, find out what you'll need to do beforehand to ensure a good time. More and more parks are requiring reservations to enter, and in some cases, it's a good idea to pack a picnic and bring plenty of water with you. And don't forget to bring the gear you'll need for specific activities like hiking, fishing, or kayaking.
Leave a comment