10 Kid-friendly Camping Recipes to Make on Your Next Camping Trip - Panergy
August 03, 2022
by Regina Wu
It's important to get the morning off on the right foot when you're camping, so you'll want to plan ahead for some nutritious breakfasts that will get your kids out of their tents and ready to adventure for the day. Here are our top breakfast recipes for kids.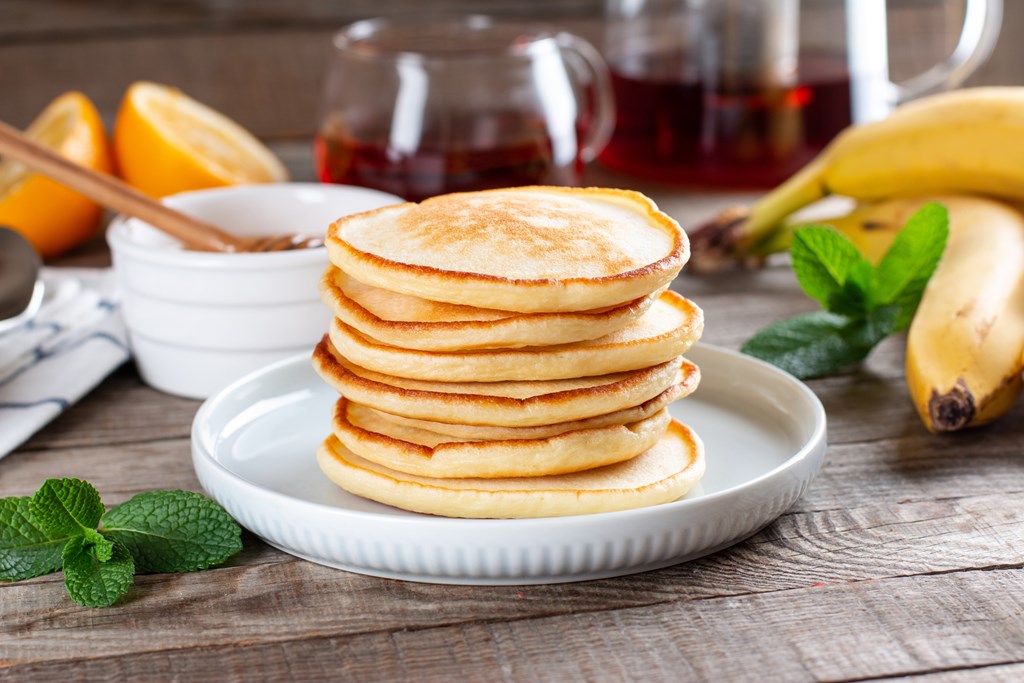 Pancakes are almost sure to be a hit with kids (and adults, too). This simple breakfast food requires minimal effort, especially if you make the batter at home ahead of time and simply pour it onto the griddle or pan once you're camping. Here's a quick and easy pancake recipe.
Ingredients:
4 eggs, beaten
2 cup milk
1 T oil
½ tsp vanilla
4 c flour
½ cup sugar
3 tsp baking powder
How to make it:
In a large bowl, mix the eggs, milk, oil, and vanilla
In medium bowl mix flour, sugar, and baking powder
Add medium bowl dry mixture to large bowl liquid mixture slowly using an electric mixer; add more flour if mixture is too runny, or more milk if it is too dry. Mix until creamy.
If desired, add two mashed bananas to the mixture
Spray a non-stick pan with cooking spray or add oil or butter and warm on medium heat
Pour the batter onto the pan and cook pancakes until bubbles appear
Flip the pancakes one time, and cook until lightly brown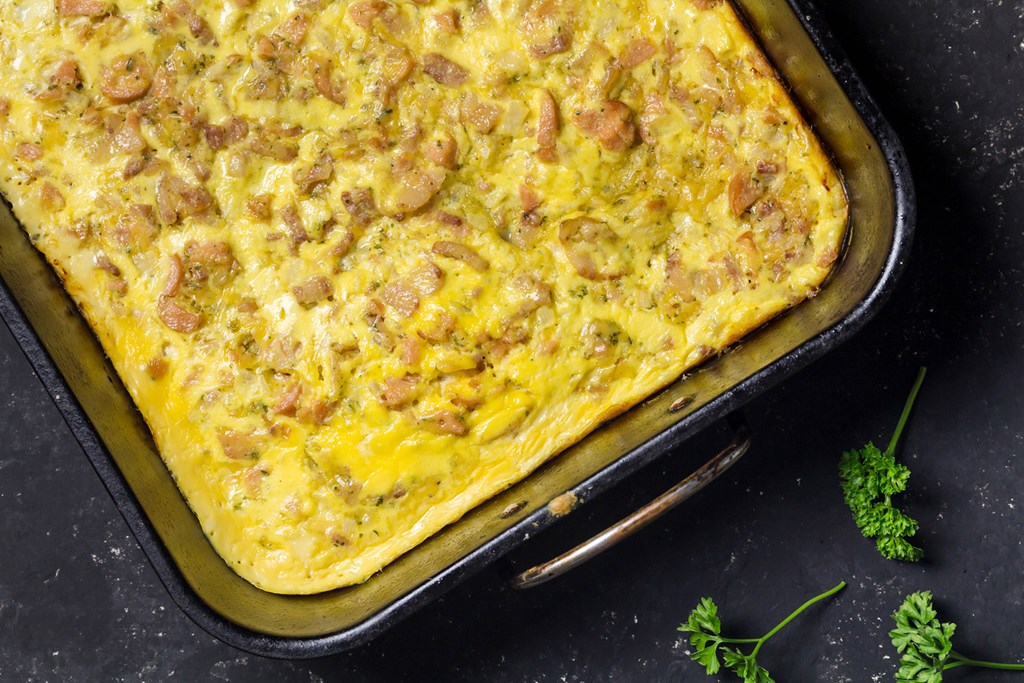 Casserole is one of those dishes that is great for kids because it's everything they need in one simple dish. They get sausage, eggs, cheese, and some bread with this easy and tasty recipe.
Ingredients:
1 pound sausage
(1) 8-oz. package cream cheese
6 – 8 eggs
1 package shredded cheese (swiss or other)
2 cans crescent rolls
How to make it:
Scramble sausage in a skillet until brown
Beat eggs and scramble with sausage
Soften cream cheese and mix with eggs and sausage
Place a layer of crescent rolls in bottom of an oven-safe baking dish, add sausage, egg, and cream cheese mixture, cover that with a layer of cheese, and top with another layer of crescent rolls
Bake over the fire for 30 minutes or until crescent rolls are golden brown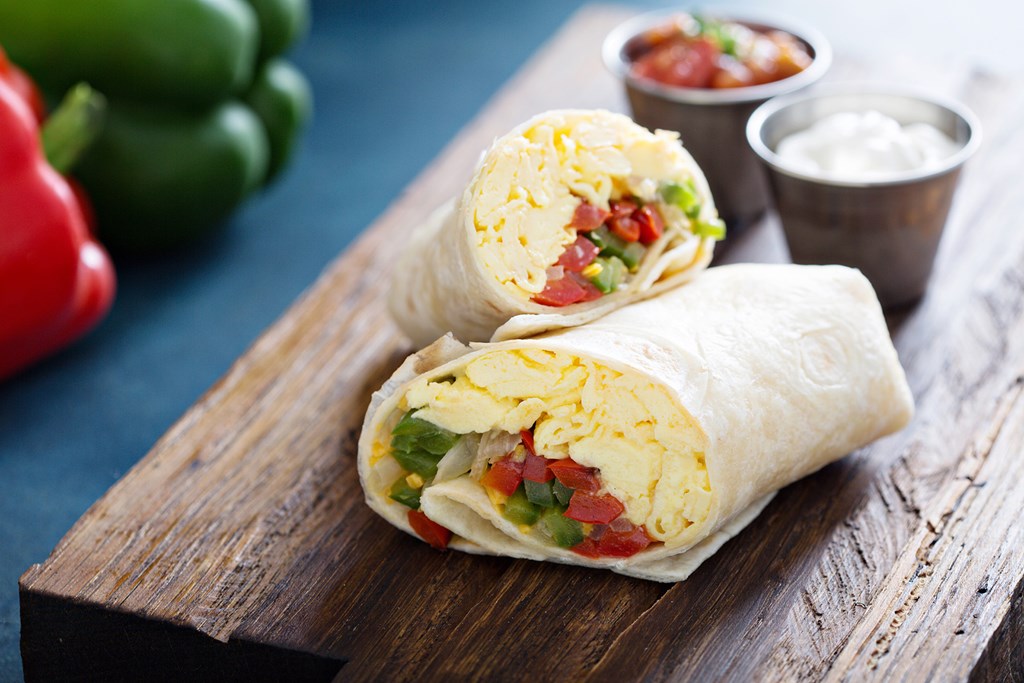 For a kid-friendly breakfast on the go, look no further than these breakfast burritos. You can opt to make these ahead of time at home and freeze them in Ziplock bags so that you can pull them out of the cooler quickly and reheat them when you're short on time.
Ingredients:
1 T butter
¼ medium yellow onion, chopped
2 T canned green chilies, drained and chopped
6 eggs, beaten
¾ cup shredded Monterey Jack cheese
Pinch pepper
Dash liquid hot pepper sauce, optional
(4) 10-inch flour, almond flour, or cassava flour tortillas, warmed
How to make it:
Place butter in a large skillet over medium heat and allow it to melt
Add onions and green chilies and sauté for 2 minutes
Add beaten eggs, pepper, and optional hot pepper sauce
Stir frequently so the eggs don't stick to the bottom of the pan
When the eggs are thoroughly cooked (but not dry), sprinkle cheese over and allow it to melt.
Place ¼ of the egg mixture along ⅓ of a tortilla, about 2 inches away from the bottom
Add salsa and sour cream, if desired, and fold up the lower edge, then roll from the side to form a burrito
Hot dogs for breakfast? Your kids are gonna love this one. It will feel like a treat for them if you serve this up first thing in the morning. And the best part? They're quick and easy to make and a lot of the prep can be done ahead of time.
Ingredients:
6 hot dogs (cut into cubes)
1 pack of hot dog buns
2 T butter
6 eggs
¼ cup milk
Salt and pepper
Shredded cheese (any kind)
Mayo (if desired)
How to make it:
Melt butter in frying pan
Whisk eggs and milk and pour in pan. Add salt/pepper to taste
Once eggs start to form, pour hotdog cubes in with the eggs and scramble together
Put mayo on hotdog bun (if desired), spoon egg mixture in, and top with cheese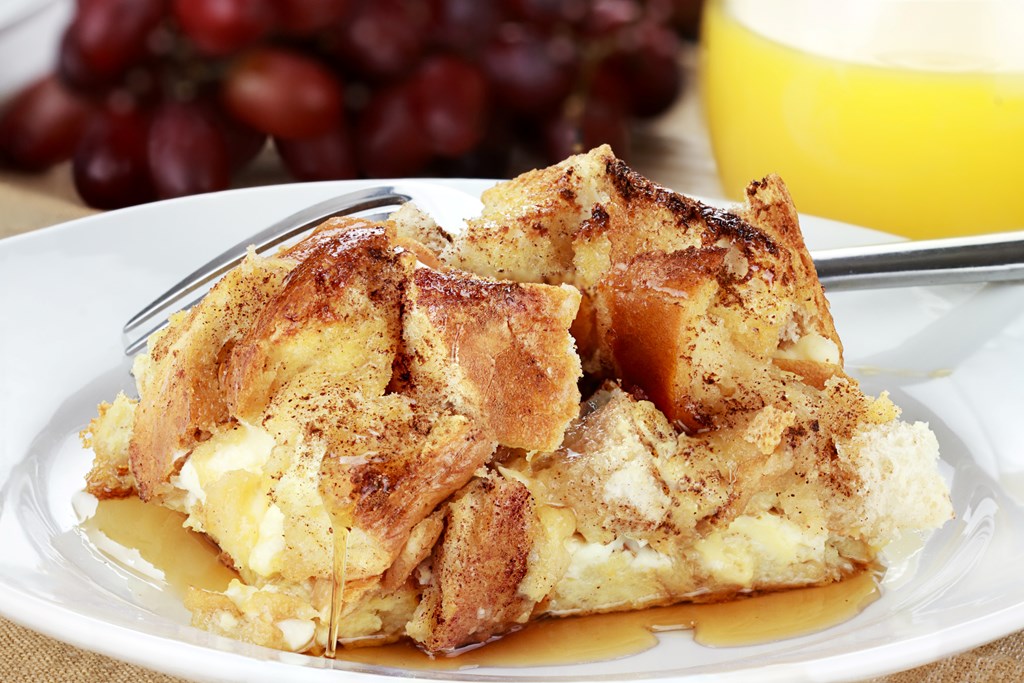 We love a good casserole and this sweet one is extra tasty. Take your kids' favorite breakfast sweet and turn it into a convenient casserole that serves up great leftovers, too. This can be made ahead of time and then reheated when you get to camp. You can add all sorts of fruits and nuts to the top of this to make it even more delicious.
Ingredients:
¼ cup flour
1 cup milk
2 tsp sugar
½ tsp vanilla
Dash salt
½ tsp cinnamon
½ tsp nutmeg
3 eggs, beaten
4 slices thick French bread, cubed
3 oz. cream cheese, cut into ½-inch cubes
½ c blueberries or other fruit
½ c pecans or walnuts
How to make it:
Mix together flour, milk, sugar, vanilla, salt, cinnamon, and nutmeg
Beat eggs and add to mixture
Add bread cubes, stir until coated
Pour in greased 8×8 pan and top evenly with cream cheese, berries, and nuts
Cover and refrigerate for at least 1 hour or up to 24 hours
Bake uncovered 20 – 25 minutes at 400 degrees or until golden brown. Serve with butter and syrup.
While breakfast sets the tone for the day, lunch is the meal that keeps the momentum going. Whether you're at camp relaxing and enjoying your lunch, or whether you're eating it while adventuring, we've got some great lunch recipes that will make your kids happy and that taste good, too.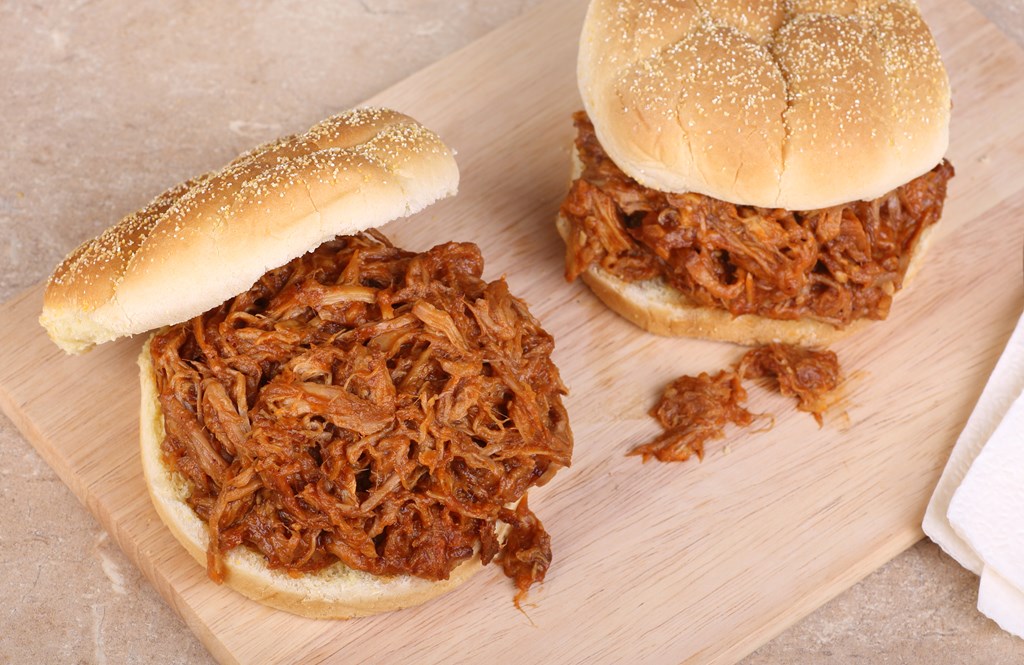 These sandwiches are full of flavor that your kids are sure to love. Plus, they are easy to make and can be done mostly ahead of time. They also double as dinner when you get in a pinch, so be sure to make extra to enjoy the leftovers.
Ingredients:
1 ½ cup chopped celery
½ cup chopped onion
½ cup ketchup
½ cup barbecue sauce
½ cup water
1 T vinegar
1 T Worcestershire sauce
1 T brown sugar
½ tsp chili powder
½ tsp salt
¼ tsp pepper
¼ tsp garlic powder
2 pounds cooked and shredded beef brisket
6-8 sandwich buns
How to make it:
Combine all ingredients except the beef and bring the sauce to a boil
Simmer sauce for 5 minutes, and then add shredded beef
Simmer at least 20 minutes longer after adding the beef
Spoon over split sandwich buns of your choice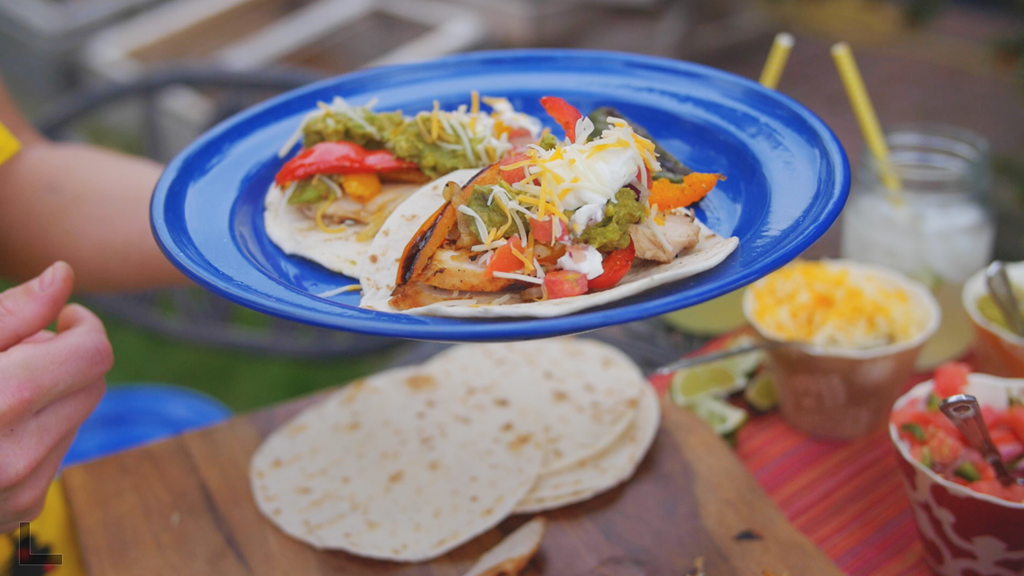 This flavor-packed lunch is something we think your kids will like. You may want to opt out of the chili powder on this one if your kids aren't big fans of spicy food, but otherwise, this meal should make their tastebuds sing while getting in some great nutrients.
Ingredients:
8 tortillas
1 ½ pounds round steak or boneless chicken breasts, cut into long thin strips
3 T lemon juice
3 T oil
1 tsp ground cumin
½ tsp salt
1 tsp chili powder
2 T fresh cilantro, chopped
5 T teriyaki sauce
1 green pepper
1 yellow pepper
1 red pepper
1 yellow onion
Lettuce
Tomatoes
Sour cream
How to make it:
In small bowl mix lemon juice, 1 T oil, cumin, salt, chili powder, and cilantro
Pour over beef or chicken strips in Ziplock bag and marinate for at least 30 minutes
While meat is marinating, slice the onion, red, green, and yellow peppers into strips and set aside.
Heat the remaining 2 T of oil in large skillet over medium heat and add the marinated meat
Fry for 4 to 5 minutes and then add the onion, and peppers
Continue to cook over medium-low heat and pour in the teriyaki sauce
When the onions and peppers are cooked to your liking, transfer over to the tortillas and serve with lettuce, tomatoes, and sour cream
This one is a lunch best served while relaxing at the campsite, and it is one that will be a hit with the kids. Macaroni and cheese is a staple in nearly every child's life, and this one had a tasty spin on it that makes it enjoyable for adults, too.
Ingredients:
2-3 boxes of macaroni & cheese
½ pound ground beef
Tortilla chips
1 T ketchup (if desired)
1 T Worcestershire sauce (if desired)
How to make it:
Over a campfire or stove, brown ground beef and set aside
Make macaroni as directed
When done, add ground beef and mix
Add about two handfuls of tortilla chips to mixture and mix
Add ketchup and Worcestershire sauce (or Tabasco sauce) if desired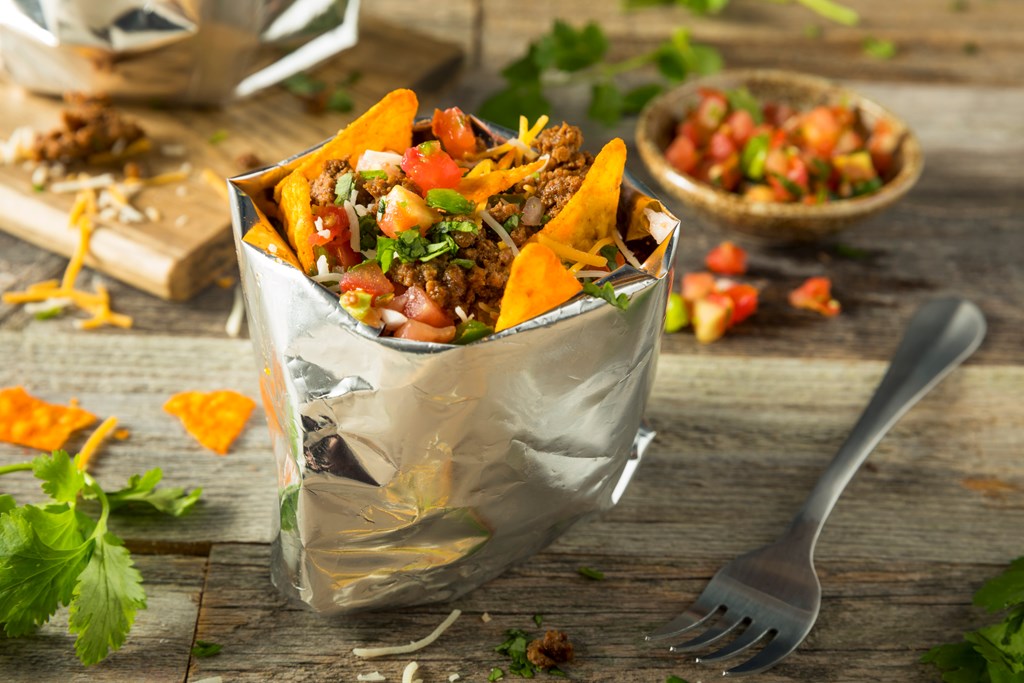 This recipe is a fun take on tacos that is great for on-the-go eating. Though a bit messy, it is worth it for the taste and the simplicity of this kid-approved lunch.
Ingredients:
6 small bags of Doritos
1 pound hamburger
1 packet taco seasoning
1 head of lettuce, thinly chopped
Sour cream
2 cups tomatoes, cubed
Taco sauce to taste
How to make it:
Cook the hamburger with taco seasoning and other spices of choice (just make sure nothing is too spicy)
Let the hamburger cool a bit
Crunch Doritos in the bag, and add the above ingredients to the bag
Grab a fork and dig in
This pasta salad is great for warm-weather camping as it's a great way to keep cool while simultaneously getting some tasty flavors in on a quick and easy lunch. It can be easily packed to take with you on a hike, and even better yet – it can be made ahead of time and kept in the cooler.
Ingredients:
4 boneless, skinless chicken breast
1 bottle Italian salad dressing
1 T Rose's Lime Juice
¼ cup honey
1 bag fusilli pasta, cooked
1 cup chopped red onion
2 cup Caesar dressing
4 Roma tomatoes, seeded and chopped
How to make it:
Marinate chicken breasts in the Italian Dressing, lime juice, and honey for at least 3 hours
Fry chicken in a cast-iron skillet for about 5 minutes on each side
Add the rest of the marinade
Bring to a boil then simmer for about 30 minutes
Cut the chicken into cubes and add to cooked pasta, red onion, Caesar dressing, and tomatoes
Chill & serve
Dinnertime is a key mealtime for kids. After a long day, they are going to want some good food, and they aren't going to want to wait long for it. So, it's up to you to find something to fit their taste buds that won't take long to cook. We've rounded up our favorite KOA dinner recipes for kids and adults, below.
Leave a comment