6 GREAT PACKING TIPS FOR RV FAMILIES-PANERGY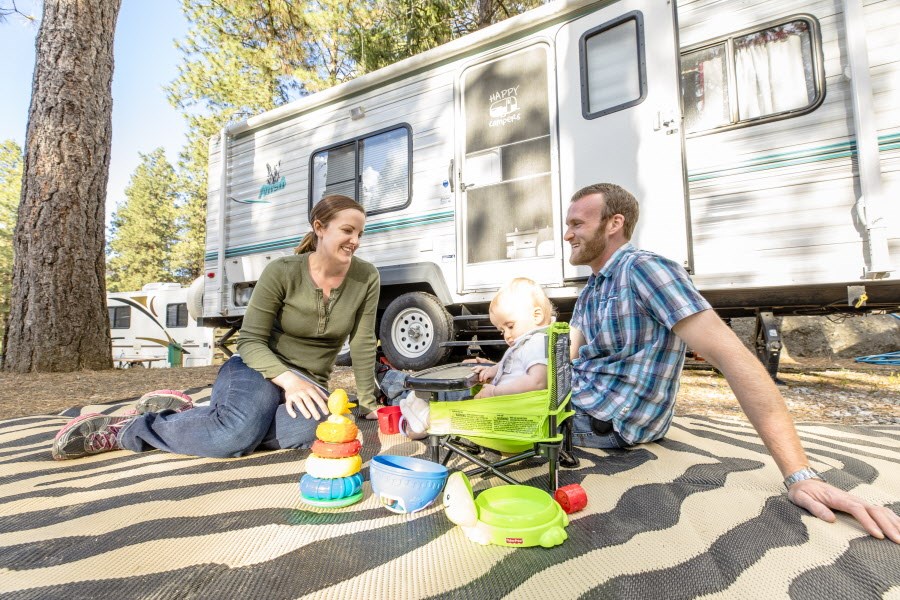 Packing for an RV trip with your kids is more of an art than a science. There are many different packing styles, and the key is to find the right one for your family. We have friends that throw a few loads of clean laundry into the RV and hit the road. We also know moms that pack every single outfit in a Ziploc bag labeled with the name of the family member and the day the outfit will be worn. Even though both of these packing methods would be a complete disaster for us, these families have found a system that works and they stick to it. End result? Happy campers.
Our family's packing style is somewhere in the middle of these two extremes.  We don't like to get stressed out about packing, but we do like to be organized and prepared.  Here are six great tips that will keep the prep easy and the camping fun!
1.

 

OVER PREPARED IS BETTER THAN UNDER-PREPARED.
When we first started RVing, we tried to pack as little as possible thinking it would make road trips easier. We quickly realized that packing light is just not worth it when you are traveling with children. Let's face it– kids get dirty at campgrounds. Always pack extra clothes and towels. Also include lots of layering options. Our boys are outside from morning to night at a campground, and keeping them warm means keeping them happy!
You know how your kids sometimes wake up sick in the middle of the night at home? Well, that can happen on the road also. In addition to a first aid kit, travel with a paired down version of your medicine cabinet. From teething tablets to vapor rub, we keep our go-to kid remedies in the RV so we don't have to panic at 2 am. So far we haven't had to break them out, but it makes us feel better to know they are there.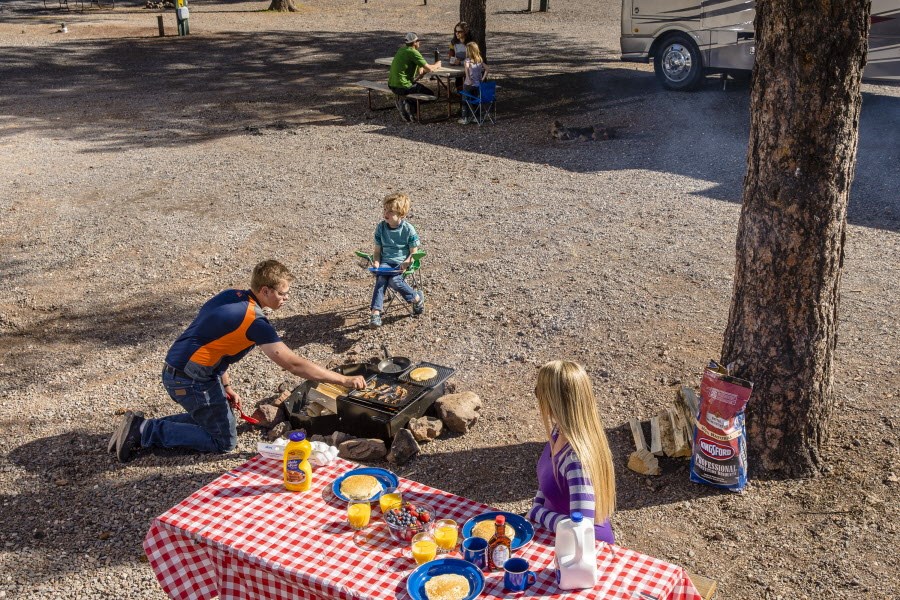 2. BRING ALONG A MIXTURE OF FAMILIAR AND SPECIAL ITEMS.
Some families have separate linens, clothes, toys, and dishes for their RV. This can make packing a lot easier, but we have found that most children travel better when they have some familiar items from home. Our boys love to bring their own blankets, pillows, and stuffed animals and we let them because it makes them more comfortable. We also travel with familiar food, books, movies, and even sippy cups. Changes in routine and schedule can be hard for some children and having their favorite items can make all the difference.
However, we also include some special 'RV only' food, toys, books, and movies. Our boys look forward to those awesome treats that only appear when we are traveling in the RV. Finding the right balance will ensure that your kids look forward to the excitement of travel while still enjoying the comforts of home.
3. ALLOW YOUR KIDS TO GET INVOLVED AND MAKE CHOICES.
Our boys get so excited when we start packing for a trip. We have learned to harness that energy by giving them packing jobs that are appropriate for their age. Right now they are responsible for packing a bin of toys, a bag of books, and 5 movies–all their choice. They also pack their rain coats, fleeces, and water bottles. Giving them these 'jobs' has made the preparation almost as much fun as the travel for our boys. And, yes, we can't wait to add more things to the list as they get older.
4. GIVE YOUR KIDS THE TOOLS TO STAY ORGANIZED.
We all know that an RV can get pretty messy if you are not organized. Recently we experimented with using eBags packing cubes, and it was revolutionary. Not only did it make our packing easier as parents, it also kept their clothes neat and tidy for the whole trip. They knew exactly where everything was and how to put it away. I know that we will be using these for all of our trips in the future.

5. DON'T FORGET TO PLAN FOR A RAINY DAY.
Nobody wants to think about rainy days while on vacation, but they do happen every once in a while. We pack a special tote bag that only gets taken out if the weather keeps us in the camper. What goes in the bag? In addition to the usual crayons and coloring books, we also include a couple of card games, sticker books, and individually packaged crafts. If you pack these items at the beginning of the camping season and leave them in your RV, you will have happy campers even when the weather is not cooperating.
6. HAVING A SIMPLE, STREAMLINED PROCESS FOR PACKING MEANS LESS TIME PREPARING FOR A TRIP AND MORE TIME ENJOYING IT.
These six rules help us get out of the house and onto the campground with as little fuss as possible. We hope they do the same for you!
Leave a comment