Camping Safely Step 1 - Before the Trip - Panergy
June 10, 2022
by Regina Wu
Parks offer a wide variety of fun things to do in different settings and levels of difficulty. When you plan your trip, match the interests and physical fitness of your group with the activities you choose. Some families love to watch birds and take easy hikes around a lake. Other groups may seek adventure whitewater rafting or climbing high mountains. Do what's right for you! You don't want to push yourself or your group members to hike, climb, or explore beyond their physical abilities—that's when injuries are more likely to occur. Be sure to ask your doctor if you have questions about your fitness level, health conditions, or appropriate activities. Then go have some fun!
Once you know the limits of your group and their experience level,
pick the park you want to visit, explore your camping options, and select your campsite.
You'll want to identify the setting, time of year, and difficulty level so you plan for the right equipment before heading out.
Setting: What is the environment like? Is it a beach, desert, or a forest?
Time of year: Think about the season. Will it be hot and humid or cold with snow possible?
Difficulty Level: Identify how accessible the campsite is. Can you drive right up to the spot or will you have to do some hiking to get there? If you have to hike, will everyone in your group be able to make the hike?
Duration: The length of your trip will determine how much food, clothing, and other supplies you'll need to pack.
Have a backup plan. Sometimes, even when you have planned every detail and taken every precaution, things happen out of your control to change your trip plans. Be it health issues, weather concerns, environmental hazards, or site conditions, do not push through with your original plans if they are no longer a safe course of action. You can always reschedule or plan an alternative activity at the park if these types of situations come up.
Before setting out on your trip, take a look at the "Plan Your Visit" section on the park's website. Be sure to research the following important information:
Permits and regulations: Find out what kinds of permits you need to camp and if there are any group size restrictions.
Outdoor conditions: Find out trail and site conditions and possible hazards you need to plan for, such as weather, rockfalls,

wildlife

, altitude, etc.
Food storage and disposal requirements: Check your park's regulations on how to properly store and dispose of food. Some may require you to bring a bear box or bag, especially in the backcountry where facilities are more sparse.
Fire regulations: Parks have regulations on where fires are allowed and when you can have a fire. Some parks may not allow open fires, especially at certain points in the year. You may need to bring a camping stove if such conditions apply.
Pet rules and regulations: If you want to

camp with a pet

, check park regulations first.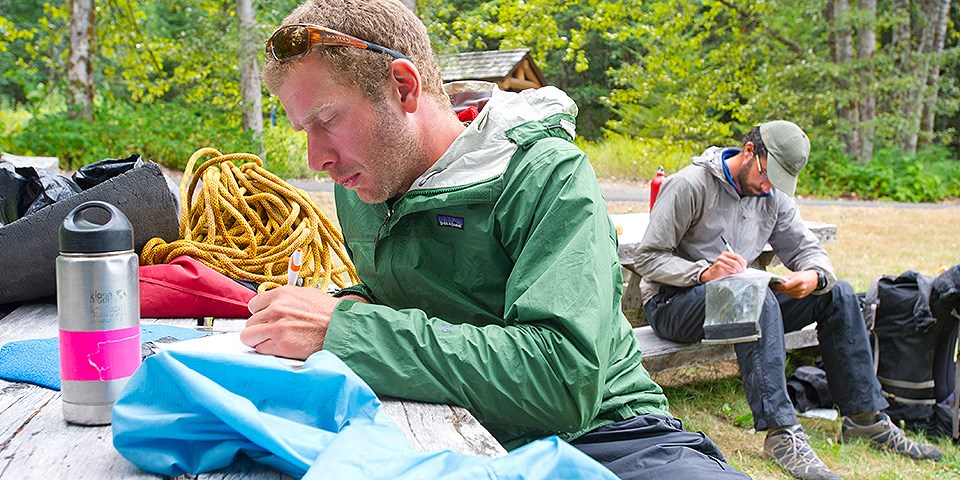 Hope for the best, plan for the worst. This old saying can easily be applied to camping. Take some steps to help emergency responders find you in case of an emergency.
Ask a friend or family member not going on the trip to be an emergency contact and leave your travel itinerary with him/her.
Put together a travel itinerary that you can leave with your emergency contact. Your travel itinerary should provide the following information:
Names and contact information of people in your group
A description of your vehicle or boat, including the make, model, and license plate #
Your starting time and location
The details of your route and your planned activities
What types of equipment and supplies you have with you
Your expected finish time and location
The park's emergency phone number to call if you do not return on schedule
It's a good idea to leave your trip plan with your family and friends traveling with you so they know emergency numbers for the park. This way, they can make contact in an emergency situation.

Develop an emergency plan.
Things rarely go exactly as planned, so prepare for the unexpected.
Follow these tips to

 

avoid getting lost or injured

Emphasize staying together, and carry whistles.
Implement a buddy system.
Tell children to "Hug a Tree" and adults to stay put (with the exception of imminent danger) if they do get separated from the group.
Make sure everybody is familiar with the route.
Stay on the trail and don't take "short cuts."
Carry a first aid kit.
Be sure everyone is physically capable of participating before setting out.

If group members are

 

lost, take these steps immediately:

Call 911 and tell the operator
When and where they were last seen
What they were wearing and carrying
Any medical conditions they may have

If you cannot call 911, flag down hikers and ask them to alert park rangers. If hikers are not nearby, split up using a buddy system and send some people back to the ranger station for help.
If someone gets

 

injured, follow these basic steps:

Provide a safe and comfortable place for the injured person to sit or lie down.
Assess the nature of the injury and the level of medical care needed. Then decide if you should call 911. When calling 911, have this key information handy:

Your current location
The type and extent of the injury
Any medical conditions the injured person may have

Follow all directions provided by the 911 operator.
If the injury consists of minor scrapes and abrasions, use your first-aid kit. Treat the wound immediately to avoid infection so that it heals properly.
In someone twisted an ankle, try to stabilize the foot, elevate it, and allow the person to take a rest.
If the person is unable to walk, enlist help from other participants or wait for 911 or park ranger assistance. If his/her range of motion is limited but functional, assist the injured person back to camp. Again, if 911 or hikers are not available, send people back to the ranger station using the buddy system.
Identify your equipment.
Every camping trip will have its own equipment needs based on the setting, time of year, difficulty, and duration. Take time to identify the essential tools and supplies you'll need for a successful and safe adventure. Start with this top 10 Essentials list1:
Navigational supplies: Include a map, GPS unit, and compass.
Sun and insect protection: Pack sunscreen, a hat, insect repellent, sunglasses, etc.
Insulation: Always bring extra clothing in case of cold weather conditions and precipitation or wind.
Shelter: Whether you're on the trail or at camp, make sure to have an emergency shelter such as a space blanket, bivvy, or tarp.
Illumination: Carry a flashlight or headlamp so you can see in the dark.
First aid kit: Include all necessary medical supplies, from bandages to specialized medication for group members. You never know what may happen, so be as thorough as possible.
Fire: Bring along a firestarter, such as waterproof matches or a lighter.
Extra food and water: Always have more than you think you need.
Repair kits and tools: Knives, multi tools, duct tape—these tools may come in handy for many things!
Communication device: While carrying a cell phone is a good idea, you may often find yourself without signal or a dead battery. Consider bringing a personal locator beacon or satellite phone for optimal safety.
Note: Keep in mind that while these are the 10 essentials, other equipment and supplies will apply to your front or backcountry camping trip. Visit the What to Bring page for more.
1
Mountaineering: The Freedom of the Hills, 8th Edition
(2010). The Mountaineers Books
Test your equipment
. Consider testing your equipment prior to your trip for a smooth camping or backcountry adventure. If you've never camped before, try backyard camping to give you and your family members a test run.
Test out the equipment to make sure your equipment works and you have the right components, for example the right fuel for your stove.
Try on your equipment, like backpacks, hiking boots, or life jackets, to make sure they fit correctly.
Practice using the equipment. For example, if you're leaving your backyard or car behind, practice packing your backpack and make sure you can carry it. If it's your first time backpacking follow the equipment testing guidelines above. Take it for a test run—fully loaded—before heading out on your trip.
Leave a comment