HOW TO MAKE TENT CAMPING MORE COMFORTABLE-PANERGY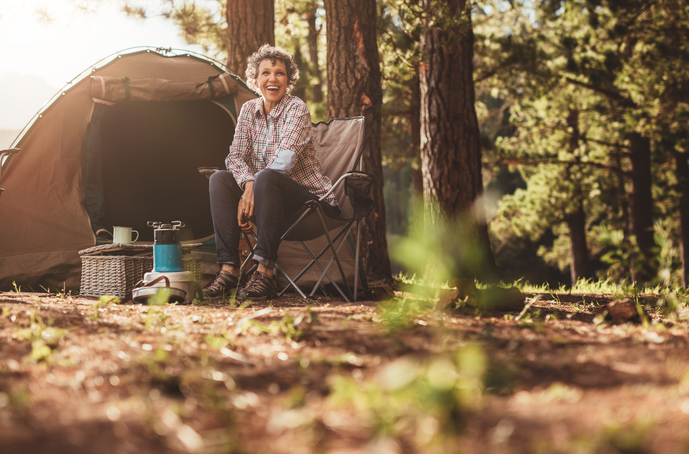 4 TIPS FOR MARKING TENT CAMPING MORE COMFORTABLE
Think "going camping" means cooking over a crackling fire pit and snuggling into a sleeping bag with only a thin nylon tent separating you from the ground? For some people, it is — but not everyone camps like that. Taking a step or two up from the bare minimum needed to camp is perfectly OK, and you can take several steps to make your camping location more comfortable.
Bringing along the right items is key to camping comfort. Even the smallest, simplest items can make your experience a better one. In addition, following a few simple best practices is helpful. If you are wondering how to make camping more comfortable, explore the four tips below.
1. BRING THE RIGHT TENT
Nearly 60% of campers use a tent because they provide a more primitive experience compared to RV and cabin camping and allow you to wake up and fall asleep to the sounds of nature surrounding you. Tents make it easier than ever to bond with your friends and family, and nothing feels quite as satisfying as sleeping in a structure you assembled on your own. Several methods are available to make your tent cozier for a restful night's sleep.
2. CHOOSE THE RIGHT BEDDING
Comfortable tent bedding is the key to having a good night's sleep on your camping trip. This includes choosing the right sleeping bag, blankets and pillows, as well as adding an air mattress or sleeping pad when necessary.
Sleeping Bags
While it is fine to have a few blankets around your tent for cozying up by the fire or early-morning breakfasts, you also need a sleeping bag. A sleeping bag is designed to keep you warm by trapping your body heat inside. Choose your sleeping bag based on its:
Shape:

 

Mummy sleeping bags are built more narrowly in the shoulder and hip area to reduce the amount of material used, which makes the bag lighter. The cut of these sleeping bags also helps you stay warmer at night. Rectangle sleeping bags are the typical sleeping bag shape and the one that offers the most comfort. With more room than other sleeping bags, you will not feel constrained in your rectangular sleeping bag. Even better is that you can hook together two of these bags. Get one bag with a right-hand zipper, and one with a left-hand zipper to make a nice big bed. You can also choose a double sleeping bag if you want to sleep alongside someone else.
Insulation:

 

Make sure you choose a high-quality sleeping bag that is insulated, especially if you are going camping in the fall or winter. Sleeping bags are insulated with either goose down or synthetic filling.
Size:

 

Many sleeping bags are a standard size, but you can also find men's and women's long and regular length bags at camping stores.
Air Mattresses and Sleeping Pads
While not mandatory, an air mattress, sleeping pad or camping cot provides the most comfortable way to sleep in a tent. They put a barrier between you and the hard ground and give you a softer surface to lay your sleeping bag on. They can also add extra insulation to keep you warmer at night. Here are some of the differences between them:
Sleeping pad:

 

Sleeping pads add a layer of cushioning between your body and the tent's floor. Because many roll up and fit inside your backpack or luggage, they are easy to bring along. Closed-cell sleeping pads are sturdy and insulating. Air pads are inflatable and comfortable but do make noise when you roll around on them. Self-inflating sleeping pads provide the structure and insulation of a closed-cell sleeping pad.
Inflatable air mattresses:

 

Inflatable air mattresses are a great choice for many campers because they offer supreme comfort compared to a sleeping pad. They are similar to regular beds — you can choose between single, double, queen and king sizes, and you can even find some with features like a cushioned pillow top. Inflatable mattresses do require an air pump, though.
Camping cots:

 

A camping cot is similar to a regular bed because it consists of a lightweight frame that holds a thin, cushioned sleeping pad above the ground. They operate similarly to your bed at home, meaning you can sit on it, store things underneath and not worry about the ground below.
Blankets and Pillows
Because adjusting to a new pillow — especially when in a brand new sleeping environment — can take time, it is a good idea to bring your pillows from home to help your sleeping routine feel as normal as possible. That said, you probably do not want to bring the blankets from your bed. Camping blankets are made with special materials to keep you warm during cold nights and are typically more durable than standard blankets. Common camping blanket materials include those made of fleece and wool, as well as thermal, folding, zipped and convertible options. Choose your camping blankets based on the season and type of environment you are camping in.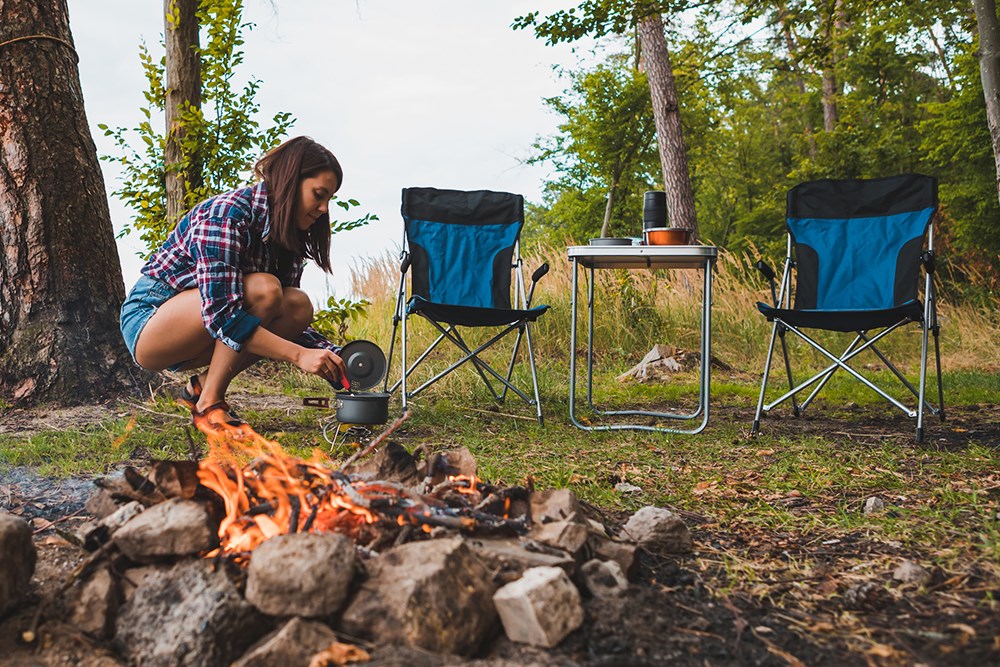 3. BRING SOME EXTRA GEAR
You might consider investing in a few optional tools and gear to upgrade your camping experience. Even the simplest extras can make camping a great deal cozier. Here are a few items to make camping more comfortable:
Some lightweight folding chairs will provide a place to sit and rest at your campsite. You might also want to make use of a folding chair while sunbathing, fishing, birdwatching or participating in other camping activities. A folding chair with a cup holder and storage flaps adds a little convenience.
Gas Stove
A portable gas stove will allow you to make a hot meal without starting a fire or heating your site's charcoal grill. With a two-burner stove, you can heat water for your coffee and cook up some eggs at the same time, making breakfast a snap. That way, you can get going much quicker in the morning, leaving more time to enjoy camping activities all day.
String Lights and Lanterns
While flashlights are an absolute necessity, you can make your campsite much cozier and easier to navigate with some additional ambient lighting. For instance, a string of solar-powered LED lights will charge up while you are out having fun and then provide a warm glow when you get back. Another option is a portable lantern, which you can use to light up the inside of your tent or the area around your picnic table.
Hammock
Fasten up a hammock at your campsite for an alternative way to relax. You can lay back as you watch the trees swaying overhead and birds flitting here and there. Besides being great for nature watching, hammocks provide easy to pack overnight sleeping arrangements.
If you'll be swinging between trees all night long, use a fitted mosquito net and rain tarp to keep bugs and water drops out of your bed. Just be sure to check the rules for hammocks at the campground you are checking in to as some might have certain spots where they are allowed.
Bluetooth Speaker and Radio Combo
Enjoy music stored on your phone or play a spooky podcast around the campfire over a Bluetooth speaker that is also an AM/FM weather radio with cell phone charging and flashlight capabilities. Emergency weather radio and Bluetooth speaker combos come with many useful options that can keep you both entertained and safe while camping.
Leave a comment