Set Course This Summer for These Rv-friendly National Parks - Panergy
August 09, 2022
by Regina Wu
In 2022, national parks across the country saw a record number of visitors. Some national parks such as Glacier National Park and Yosemite National Park pull in millions of visitors every year, while others such as Capitol Reef are not at the top of so many peoples' lists, but that doesn't mean it and other less-popular ones aren't gems in their own ways.
Sometimes it's the lesser-known national parks that make for the best trips. This is becoming even more true as the popular national parks are getting almost too popular. Ones such as Glacier National Park have to limit the number of people that can drive up its famous Going-to-the-Sun Road to ensure traffic doesn't get too out of hand.
Whichever national park you opt to go to, we are willing to bet you'll have a great time and create memories that will become some of your favorites.
If you've got an RV and are ready to roll your way into some national parks this spring and summer, but aren't sure which ones are the best for a vehicle of your size, don't worry – we've got you covered. We've researched which national parks are the most friendly for RVs, so read on to learn more.
THE BEST NATIONAL PARKS TO VISIT IN AN RV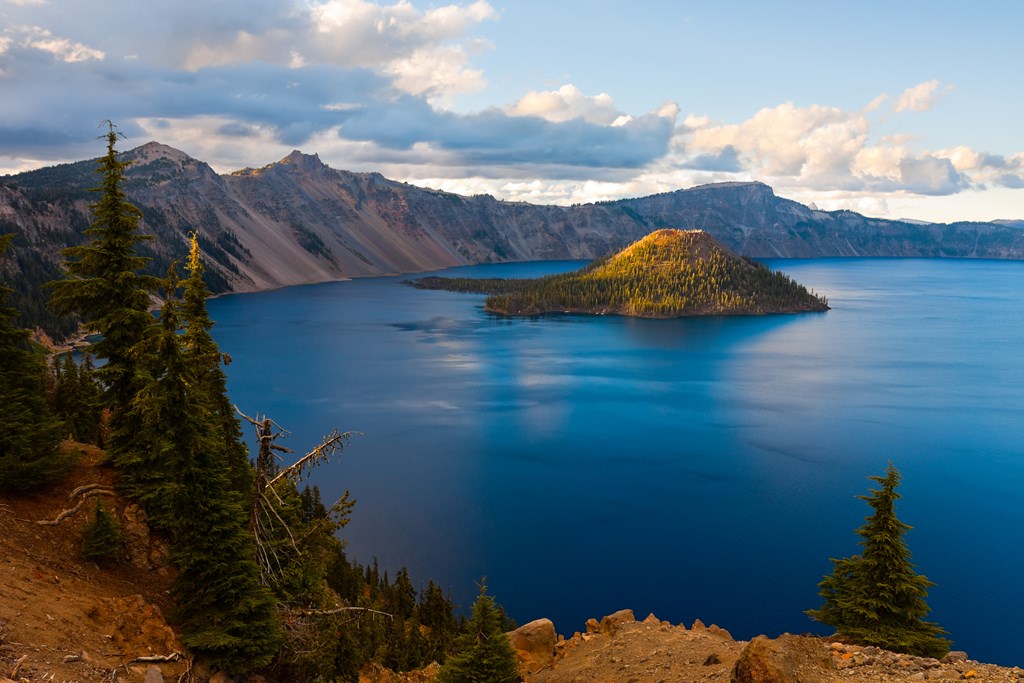 1. CRATER LAKE NATIONAL PARK | OREGON
We are still amazed that the entire stunning state of Oregon only has one national park. That's one of the reasons we couldn't imagine a list of RV-friendly national parks without putting this one on it. It is the main attraction for the whole state in our eyes.
Speaking of main attractions, Crater Lake itself is obviously what draws people here. The depths of this lake reach nearly 2,000 feet, making it the deepest lake in the United States and the second deepest lake in the United States. If that's not enough to wow you, how about we add in the fact that this lake is fed exclusively by rainwater and melted snow, which makes it one of the clearest and the cleanest bodies of water in the entire world. Now that's impressive.
Though Crater Lake itself gets the most attention at this national park (and rightfully so), there is much more to see here. One thing that we love is driving along the 33-mile Rim Drive that takes you on a loop around the entire lake. It is part of the Volcanic Legacy Scenic Byway and has countless points of interest and overlooks that will have you snapping picture after picture.
Are you intrigued by the idea of seeing a volcano inside another volcano? If your answer is "yes," then you don't want to miss making your way out to the Magical Wizard Island on the lake. Though it looks fairly normal from land, it is actually a cinder cone emerging from the bottom of the lake.
The hikes at Crater Lake National Park are not to be missed either – there are over 90 miles of trails here. Plaikni Falls is one of the best that isn't too difficult and takes you through an old-growth forest into a world of beautiful wildflowers.
We recommend staying at Crater Lake National Park for at least two days, but longer if time allows. You'll need at least two days to see the highlights and more time to dive deeper into all this place has to offer. Speaking of diving, the water here is cold year-round so while you may want to hop in for a quick dip, it's not a place you're going to want to swim in for long.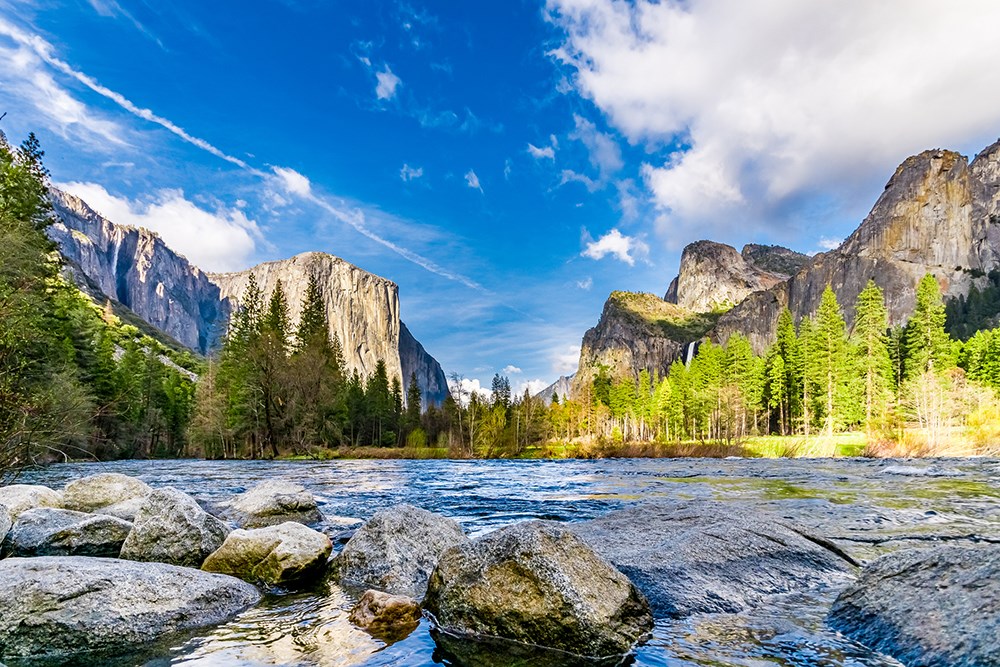 As one of the hottest national parks in the country, it feels like we would be doing you a disservice if we didn't include this on our list of the best national parks for RVers.
Yosemite is one of the first wilderness parks in the United States and has many claims to fame, all encompassed in its nearly 1,200 square miles of beauty. With everything from sequoia trees that are thousands of years old (if trees could talk . . .) to towering cliff faces and more, Yosemite is home to some of the most awe-inspiring rock formations in the entire country.
Don't be overwhelmed by the thought that you have to figure out how to trek through 1,200 square miles of this park, though. Most of the tourist attractions exist within an eight-square-mile area, which is one of the reasons why it's a great park to take your RV.
Yosemite is home to the famous Half Dome and El Capitan, which are both every rock climber's dream. Half Dome stands nearly 9,000 feet tall and El Capitan is the largest single granite rock on earth. Because these climbs are so intense, they aren't for everyone (plus you have to apply for a lottery for Half Dome). But don't worry – there are plenty of other adventures for less-experienced visitors.
Don't miss Yosemite Falls, which are the highest falls on the entire North American continent, measuring in at nearly 2,500 feet tall. Be sure also to make your way to Mariposa Grove, home to over 500 giant sequoia trees. You can hike your way through some of the most beautiful parts of the park and also opt to go rafting on the Merced River.
The one challenge with Yosemite National Park is the crowds. About 4 million people visit this park every year and when you think about packing that many people into an eight-square-mile area, things can get complicated. That's where timing becomes really important. Time your trip to Yosemite for when the crowds aren't as full and get up and moving earlier in the day to beat the crowds. Trust us when we say you don't want to miss the beauty of Mother Nature at this national park.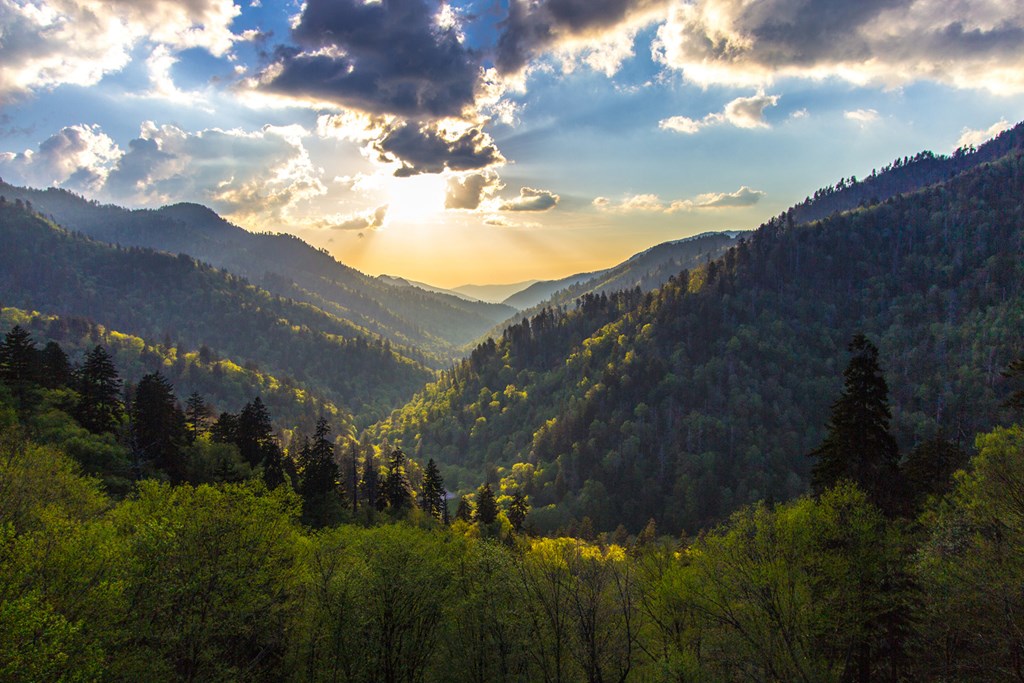 3. GREAT SMOKY MOUNTAINS NATIONAL PARK | TENNESSEE
As the most visited national park in the United States, you bet your bottom dollar that we are gonna put this one on our list of must-sees via an RV. According to the U.S. National Park Service, 12.1 million people visited this park in 2020.
Great Smoky Mountains National Park crosses North Carolina and Tennesse and is known for its wildlife and its ancient mountains. The mountains make up one of the oldest ranges in America, so you can only imagine the history that this place has lived through.
So how about you create some history of your own by embarking on a journey through this park's wonders. Wherever you go and whatever you do in this park, you are bound to experience the wildlife that makes this place so popular. Over 17,000 different species of animals have been recorded at Great Smoky Mountains National Park, and more are discovered every year. The park is home to one of the world's few International Biosphere Reserves, so you know you're in for a show.
The scenic drives in this park are to die for, and no matter what entrance to the park you take, your adventures will begin on the Newfound Gap Road. We suggest packing a picnic and enjoying the stops along the way.
When you get the itch to get out of the RV and experience the park on foot, you'll have over 150 different trails covering over 800 miles of backcountry. We suggest taking the four-mile hike up to Ramsey Cascades, the tallest waterfalls in the Great Smoky Mountains.
And if you're a fisherman, you will love the over 700 miles of fishable streams in the park where you can catch some brook, brown, and rainbow trout.
As you can see below, Great Smoky Mountain National Park is a hotspot for KOA campgrounds. You have a variety of different campgrounds to enjoy in the area, so we know you'll find at least one that is exactly what you hoped for this epic adventure.
Leave a comment