SUMMER CAMPING GEAR-PANERY
SUMMER CAMPING KITCHEN GEAR
Regardless of whether you're tent camping, RV camping, or cabin camping, you're going to want the following kitchen essentials.
Cooler
Even if you're in an RV with a fridge, you'll want to bring a cooler with you. Chances are your RV fridge isn't very big, and will also help ensure you're aren't skimping out on things you need.
Cutting Board
You'll be especially happy you have this when you're tent camping — there aren't many places you can chop up your food in a tent!
Knife Set
Regardless of the size, bring a knife set to prepare food.
Can Opener
What's a camping trip without a good old can of tuna or beans? You'll be missing out on both if you forget to bring a can opener.
Scissors
You never know what you're going to need scissors for but — trust us — they will come in handy at some point and you will be very thankful you brought them.
Trash Bags
These are key for keeping creatures out of your garbage, as well as keeping things clean in your camping area.
Paper Towels
Cleanup is quick and easy with paper towels.
Dish Soap and Sponge or Scrub Brush
You don't want to be lugging home dirty dishes. Bring a dish soap and a sponge or scrub brush to clean your pots and pans before leaving the campsite.
Pre-Made Meals
Whether it means you're making an entire lasagna at home to be reheated at the campsite, or you're measuring out ingredients to use while camping, anything you can do ahead of time at home will save you a great deal of trouble and time while camping. You don't want to spend your camping adventure cooking — you're there to have fun!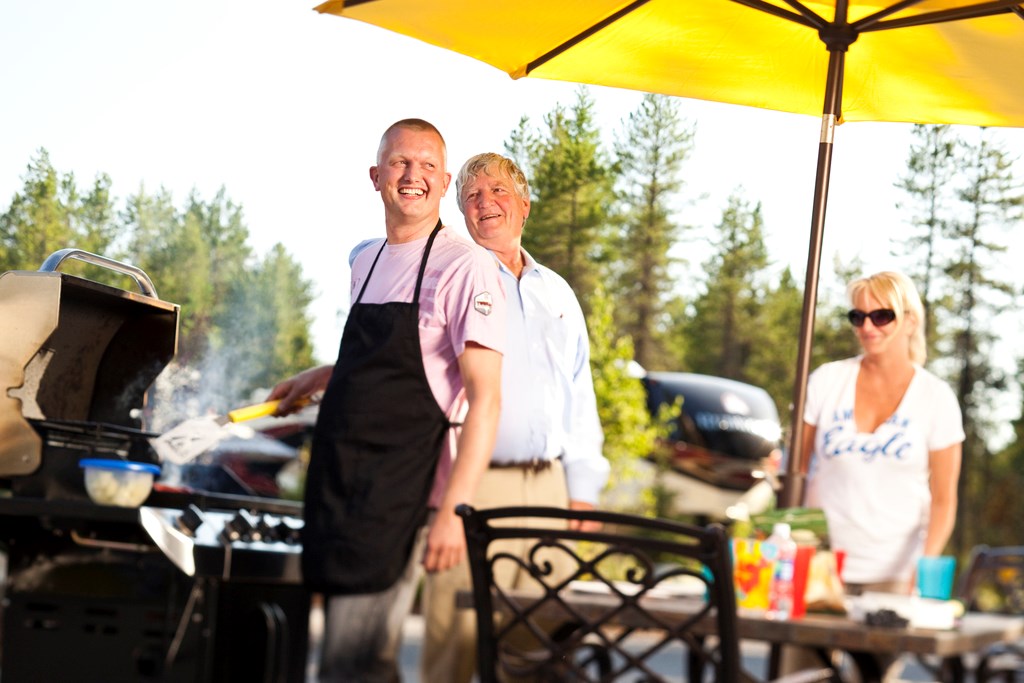 SUMMER CAMPING ADVENTURE GEAR
Now is time for the fun stuff — the things you'll need to ensure your adventures go as smoothly as possible this summer.
To prevent summer heatstroke, always carry a portable fan
Lantern
For late-night walks and trips to the bathroom, you'll want to have a lantern with you to guide the way.
Flashlights
For fun games and for safety too, flashlights are a great thing to bring with you camping.
Chairs
Sitting around the fire and making s'mores is a whole lot more fun when you've got some comfy camping chairs to sit on. They make for a great place to start your day with a cup of coffee in hand, too.
Towels
Showering is pretty miserable when you don't have a towel to dry off with. Be sure to pack some with you.
Swiss Army Knife
You never know when you're going to need one of the many tools that comes on a Swiss Army Knife, but at some point you will. Always have one handy during your summer camping trips.
First Aid Kit
Better safe than sorry — keep a first aid kit near you at all times when camping.
Bug Spray
Summer is the height of bug season, and you don't want these little buggers ruining your summer adventures. The options are nearly unlimited when it comes to bug spray, so go with a safe one that doesn't smell too terrible.
Sunscreen
Even if it's overcast, you want to have sunscreen on. The sun has a funny way of working even when you don't see it, so always bring your sunscreen and reapply it.
Outdoor Blanket
You probably don't want to use the blanket you'll be sleeping with to wrap up with around the campfire. Bring along outdoor-specific blankets to stay warm with during your late-night ghost stories.
Walkie-Talkies
Though these seem so "old school" with cell phones everywhere these days, there are some places you may go camping this summer where cell service does not exist. These walkie-talkies make for a great alternative so that you can stay in contact with your fellow campers, should you head in different directions.
Hiking Shoes
What's a camping trip without at least a bit of walking around? Don't leave your hiking shoes at home this summer.
Daypack
If you're planning to do some day hiking, you'll want to have a daypack with you to carry all your food, water, and other gear while away from your campsite.
Fishing Gear
If you're determined to catch a fish or two, you're going to need your fishing gear.
Book
There is bound to be some downtime while you're camping, and reading a good book is a great way to spend that time relaxing.
Board Games and Cards
Many families are into board games and cards, and we think they're a great way to enjoy some time with your family. Opt for games that don't have many pieces to them, so you don't risk losing some on your trip.
Beach Needs
If you're camping somewhere near the beach, you'll want these bare minimum items:
Beach towel
Sunhat
Umbrella
Leave a comment