The Best Tent Fan for Camping - ipanergy
November 07, 2022
by Regina Wu
We're sure you'd agree that few things compare to enjoying the outdoors during the warm summer days.
However, while the warm weather brings stunning scenery, beautiful nights, and plenty of animals to adore, it also tends to get extremely humid.
Sleeping in warm, humid temperatures while stuffed in a tent can be unbearable.
Fortunately, there is a solution that will allow you to enjoy your summer camping trip comfortably – camping fans!
We have scoured the internet, looking at various tent fans for camping and overlanding, and created a list of excellent options to make your decision stress-free. Take a look at five of the best camping fans available today.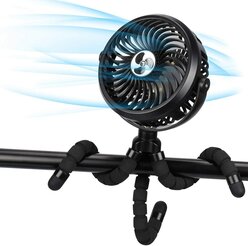 One of the key features of this fan is the flexible tripod legs that you can wrap around any handle. This camping fan also has three different speeds that you can adjust according to the level of comfort you wish to achieve. In addition, the Battery Operated Fan has a rechargeable Grade A 2600mAh battery that can offer you up to 10 hours of cool air if you set it to low speed.
If that wasn't enough, this fan also features LED lights that can work separately or with the fan. The fan and the lights each have their own controls, making it possible for you to choose the fan and light setting you need.
With a rechargeable battery and multiple fan speed options, we know you'll love this portable camping fan! Not to mention, this could be used as a handheld fan for hiking trips (unlike most camping fans on our list today).
Pros
Flexible tripod legs that are easy to clip
Three different speeds
Head can be adjusted 360 degrees horizontally and vertically
USB port for increased charging options
LED lights with three settings
12-month replacement warranty
Cons
Insufficient airflow for full tent coverage
Might need to run at faster speeds to provide effective cooling
Battery only lasts for three to six hours when set to high speed
How to Choose a Good Fan
Choosing between only five camping fans is much easier than choosing between the hundreds of options available online. However, seeing that these five camping fans are all excellent in their own way, making that final decision can still be challenging.
To help you make an informed decision, we will discuss some of the most important factors you should consider before purchasing the best tent fan for you!
Durability
As enjoyable as camping is, you and your gear may still have to endure a few bumps and bruises. Opting for a sturdier and more durable portable fan is always the way to go. You don't want your tent fan breaking on the first day of your camping trip, leaving you to deal with the warm and humid temperatures with no relief.
Weight
Weight is a big deal when packing for your camping trip, especially if you intend to do a bit of hiking to take in the scenery. Opt for a portable fan that won't burden you with too much additional weight, make sure it is easy to carry.
Storage
When it comes to storage, you want a tent fan that is compact and that does not take up much space. Try to find one that will fit seamlessly with the rest of your luggage, which will make carrying it even easier.
Battery Life
Though most of the fans we have shared with you can be recharged using a laptop or a wall outlet, you cannot typically find these items in abundance when camping, especially if you plan to camp in more remote areas. Therefore, the longer the tent fan's charge can last when used at high speeds, the better it will be for you.
With a battery operated fan (and fans that support rechargeable batteries), this shouldn't be a huge issue. However, you should pay attention to your fan's power bank before you leave to go camping, as you don't want to get to your destination to realize that your portable fan is nearly dead!
Coverage
The best tent fan should be powerful enough to provide cool air for the entire tent. Plug your tent fan into an outlet in your home and see if you're able to stay cool with it. Monitor the fan speed and go from there! If you think that you need a stronger portable fan, you'll be able to purchase one before you go. 
Conclusion
For most people, the Geek Aire Rechargeable Outdoor Fan is one of the best camping fans they've used. However, any of the other options will still provide you with a high-quality tent fan that is sure to make your summer camping trip more enjoyable. Feel free to check out our article on the best camping gear & supplies to learn more about some of these highly recommended camping supplies.
Leave a comment