THE PERFECT FAMILY CAMPGROUNDS FOR FIRST TIME CAMPING-PANERGY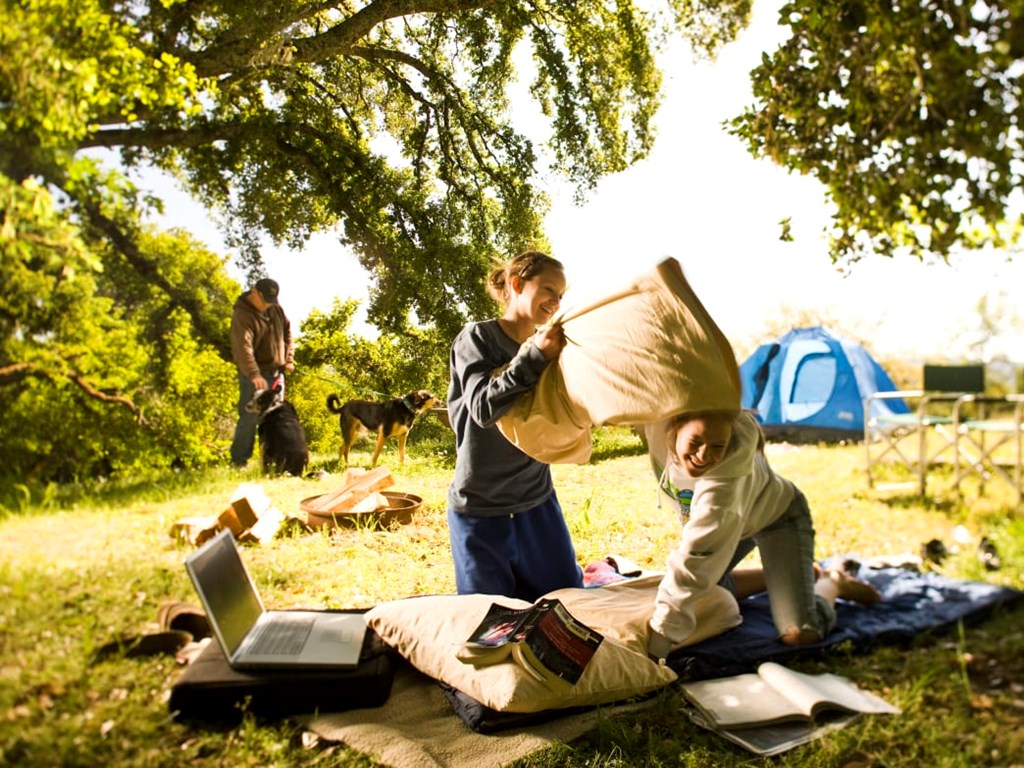 There's the perfect camping trip that exists in your mind, filled with days enjoying nature and nights with loved ones around the campfire. The weather is perfect, everyone's smiling, and you're creating lifelong memories together. Then there's the opposite side of the coin, where your equipment fails, the weather is miserable, and no one likes sleeping on the ground. For the first-time camper, it's easy to go back and forth between these extremes as you plan your first getaway. But while the idea of camping with your family can be intimidating, that shouldn't keep you from giving it a try.
1. IT'S A GREAT WAY TO SEE THE COUNTRY
With a vast network of KOA campgrounds, you can go just about anywhere in North America and find a comfortable place to rest. Interested in visiting a National Park? Chances are you can find a convenient KOA just outside the park boundaries. Whether you want your vacation to include the mountains, forest, lake, or beach, you can find a KOA campground to fit the bill.
2. PLENTY OF KIDS ACTIVITIES
As with any family trip, if the kids are happy, everyone's happy.  campgrounds are focused on providing a wide variety of activities to keep the smiles on those young faces. Amenities at many KOAs include swimming pools, hiking trails, playgrounds, miniature golf, climbing walls, horseshoe pits, basketball courts, and even jumping pillows—large trampoline-like structures that are as fun as they sound. 
3. CAMP THE WAY YOU WANT
What did you have in mind for your first camping trip? Maybe you want to start with one of deluxe cabins, which feature a small kitchen, cable TV, and a private bathroom and shower. You can still enjoy outdoor time with your own patio and fire ring, but you can settle in for the night in real beds (cabins generally sleep four to six people.
If you'd rather rough it a bit more, take advantage of the tent camping sites, which also feature a picnic table, fire ring, and nearby restrooms and showers. Some premium tent sites feature electrical hook-up to recharge all your gadgets.
Other unique lodging options at  campgrounds include Airstream trailers, yurts, cabooses, houses, and walled tents. Whatever you choose, you'll have access to all the campground's amenities.
4. MODERN AMENITIES
Yes, it's fun to be a part of nature and get away from the screens—but it's nice to have some of those modern amenities when you need them.  
5. GREAT HOSPITALITY
You don't necessarily think of a campground as a place where you expect customer service, but KOA is known for its friendly folks in the yellow shirts. Camp staff is there to make your stay enjoyable, and they've been specially trained to ensure that your first camping trip is a success.
6. TRAVEL WITH YOUR PET
You shouldn't have to leave the dog behind when you're traveling with the family. For those who bring their pet along, most  have a fenced, off-leash Kamp K9 Pet Park as part of the campground. You can let your dog run free and spend time with other pups. You'll also find clean-up stations and freshwater to make dog care easy.
7. SAVE MONEY WHEN YOU CAMP
A big vacation doesn't need a big price tag. 
8. IT'S EASY TO ORGANIZE
Leave a comment