Why You Should Consider Glamping for Your Honeymoon - Panergy
July 27, 2022
by Regina Wu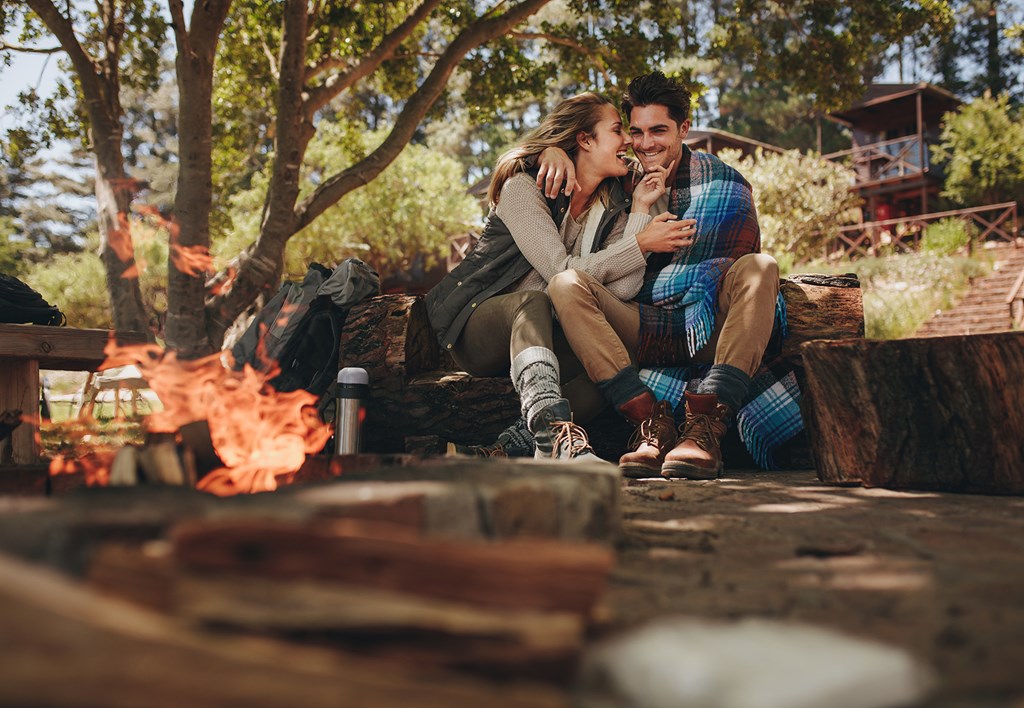 Congratulations on your upcoming nuptials! Glamping is a great way to connect and set the tone for your new life together while unwinding after all the wedding planning. Glamping, glamourous camping, is a way to be in nature surrounded by comfort, and that's what you want on a honeymoon! Here are some ways to pick a glamping style that fits with who you are as a couple.
MATCH WEDDING THEME TO GLAMPING SETTING
Why not coordinate your wedding theme with the honeymoon glampsite you choose? Whether you're going rustic, beach, vintage, garden, or any other wedding theme, there's a glamping mode to match. Choose a romantic camping destination with wedding theme vibes like ranchland, desert, mountain forest, ocean or lakeside beach, and yes, even islands.
GLAMPING ACCOMMODATION TYPES
It's possible to weave your wedding theme with the type of glamping accommodations you choose to stay in, but there are a few classic options that fit any theme, camping cabins and walled tents. Camping cabins are the most plentiful type of unique camping options at KOA locations. These homey log cabins are perfect for newlyweds to nestle into and soak up the sights and sounds of nature from the porch swing for two. Walled tents are essentially a bedroom with canvas walls and ceiling, over a sturdy frame on a raised platform. There's enough room for a queen-sized bed and a few pieces of furniture like side tables and maybe a chair or two. And then there are the specialized glamping options. Go retro in an Airstream trailer, experience nature from a teepee, escape into a fairytale tree house or board a vintage railcar or caboose for the night.
GLAMPING DREAM DESTINATIONS
Anywhere you choose to glamp qualifies as a genuine honeymoon vacation. With KOAs in must-see locations across the U.S. and Canada, you can stay local or fly across the country to take in new vistas. Design a laid-back island getaway or cover some ground on a road trip seeking out spectacular views. Check a National Park or natural wonder you've always wanted to visit off your bucket list.
ROMANTIC ACTIVITIES
It's time to forget about everyone else and enjoy each other's company on your honeymoon. There are plenty of options to stoke the fire of romance both at your glampsite and nearby. Relieve tension from months of wedding planning by dipping into the campground hot tub, then bundle up next to a campfire back at your place. With an eye on the sky, ponder the vastness of your new life together, watching the sunrise with a cup of coffee or stargazing at night with a glass of wine.
Discover what romantic activities are available nearby when you book or as a delightful surprise once you're there. Does horseback riding, couples' mud baths, or a hot air balloon ride sound romantic? Or how about road-trip-able hot springs stops and divine wine tasting destinations?
ROMANTIC FEATURES OF GLAMPING
Glamping is all about comfort—a cocoon-like shelter with a comfy bed in a beautiful natural setting. Inside your canvas tent, cabin or caboose, it's easy to create some romance. Think spa. Create a relaxing ambiance by bringing spa robes and slippers, soothing lotions, and scented herbal oils for a honeymoon couples massage. Keep the spa atmosphere going by playing meditation music and placing flickering lanterns or battery-powered candles around. A heated blanket is a must for cool nights snuggled up together.
Incorporate the outdoors around your love nest into the glamping fantasy. String up some gold globe lights to brighten your porch, patio and outdoor dining area. Configure patio chairs in your favorite spot to contemplate nature and each other. Add seat cushions and a throw blanket for maximum comfort, and pull up close to the fire.
ROMANTIC FOOD IDEAS
Cheers! Since this is your honeymoon, having chilled champagne, fresh roses, and a box of chocolates waiting your arrival is always a classy move. But when glamping, make sure another kind of dessert is on the menu, s'mores. Put a romantic twist on this Gramm cracker, chocolate, marshmallow classic by adding caramel or swapping in chocolate mint.
When deciding on a glampsite, you'll find some have full kitchens, partial kitchens, or outdoor cooking only options. Cook together for the first time as newlyweds over a campfire, grilling delicious dishes. But you can always get dressed up for a date in town to try the local cuisine.
Leave a comment