Clip On Stroller Fan VS Octopus Fan With Tripod--ipanergy
Your baby's comfort is your top priority when going for a walk in sweltering heat.



Stroller fans are the most popular option for keeping kids cool, and you might start wondering which one to buy.



Customers often ask us, which one is better, a clip fan or a fan with bendable legs, and which one can be used for a stroller?



This is a difficult question to answer, it all depends on your needs.



Take a moment to read through this article and find out which fan is best for you.



While both types of fans are great stroller fans, this article is mainly to help you choose the ideal fan for your specific type of stroller.



Having said that, at skygenius.cc we do have years of experience in the small fan industry. Using our expertise and the quotes at the end of the article, you will be able to compare and decide for yourself.



However, if you don't have time to read the whole article, here are the short and long ones. Read on for more details.









Which fan is best for your stroller?


Clip On Baby Fan vs Stroller Fan With Legs - This is the Best 01 Clip On Baby Fan vs Stroller Fan With Legs - This Is The Best 02 Clip On Baby Fan vs Stroller Fan With Legs - This Is The Best 03






Clip-on Stroller Fan
SkyGenius_S01_Battery_Operated_Clip_On_Stroller_Fans



Clip-on stroller fans fit almost every position on a stroller, such as front fenders, handlebars, side rails, canopy, and child strays.



If snack trays or canopies are the place to go, you know that a clip fan can definitely work its magic with a simple clip.



The downside is that the clip-on fans are relatively weak on jogging strollers. When you're running in the stroller with your baby, you may notice the little fan shaking and bouncing a lot.



However, if you are using a normal type of stroller, the clip-on fan can be placed as you would expect.





Stroller Fan with Flexible Tripod


Battery_powered_tripod_fans_with_legs_for_baby_strollers


The stroller fan with curved legs locks tightly onto the round rod. As an accessory for a jogging stroller, you will be amazed at its stability when you run on rough roads. Its flexible feet wrap tightly around the stroller without wobbling.



So, if you have a jogging stroller, a stroller fan with bendable octopus legs is ideal.



That said, if your boy is prone to sweating, this fan is also great for kids bikes.



The downside is that tripods don't last as long as clip fans. With constant adjustment, the legs tend to come off the fan. Once the metal is fatigued, the legs can easily fall off. If you plan to disassemble and connect multiple times, try a clip-on fan.













The benefits of using a stroller fan


benefits_of_using_a_stroller_fan


Stroller fans are primarily designed to keep your baby sweat-free and comfortable on sweltering days.



Even at night, it can be hot if you live in a warm climate. Walking at night when the sun has gone down, you still feel the heat coming out of the ground.



With a battery powered stroller fan, you can simply attach it to the stroller and go for a walk with your child.



The rotating fan head that comes with most stroller fans lets you adjust the airflow and point it wherever you want to go while your little one sleeps in different positions.



It's very quiet, so don't worry, it won't disturb your child's sleep as quickly as possible.



So this keeps your baby cool outside and enjoying a relaxing walk.









Other Types of Stroller Fans


Atomizing stroller fan


Clip_on_handheld_misting_stroller_fan


You probably already know that fans don't produce cool air. They are like moving air and taking away hot air.



And a misting stroller fan can actually take cooling to the next level.



With the help of a built-in atomizer, it uses evaporation to cool the air. The water vapor evaporates and the energy exchange cools the surrounding area around your child.



A big plus is that today's spray stroller fans won't soak your face like a spray bottle of old-fashioned strollers.



Just a faint mist came out of it.



Your little one will feel a little moisture, which is good.





Clip on fan with flexible neck
Clip_on_foam_fan_with_bendable_neck



The flexible neck clip-on fan is the traditional stroller fan you're familiar with.



Most of them don't come with wide blade housings to keep curious fingers out, so the fins are designed to be soft and baby safe.



The running speed is fairly low so the little fingers of the kids don't get hurt.



Unlike stroller fans with hard plastic blades, when it's hot outside, you know a foam fan won't provide enough air for your baby.



However, if the weather is getting warmer and you just want to give your kids some extra ventilation, this is a great option. It will provide your child with a breeze, which is also delightful.





Handheld fan with clip
Handheld_fan_clipping_to_baby_strollers



Like the title suggests, it's a handheld fan with an extra clip that attaches to the stroller.



The fan body can be placed on a bracket and then clamped to the handlebars of wheelchairs, strollers, whether round or square.



If you want to use the fan without connecting it to the bar, that's not a problem. Bend the bottom at a 90-degree angle so you can set it on a flat surface.



Just like any other multipurpose fan, you can use it almost anywhere or anywhere you need a fan.









Clip-on Stroller Fan with Bendable Leg Fan


SkyGenius_Clip_On_Battery_Fans_Versus_Baby_Stroller_Fans_With_Bendy_Tripod_Legs


Now that you're familiar with some of the different types of stroller fans, you might want to learn more about the difference between clip-on fans and bent-leg baby fans.



In this section, we won't discuss common features like battery life, noise levels, portability, fan speed, and price.



As far as the above features go, battery-powered stroller fans aren't much different.



Instead, we'll talk more about the difference between durability, versatility, and where you care about fit.



As mentioned above, both have good and not so good sides.



You need to consider your specific needs and the type of stroller to decide which one is best for you.









Quote from a Stroller Fan User


clip on fan


Portable_clip_on_fans_for_baby_pram


"Love this clip on the fan. We use it every day. Not only for pram rides, I clip it on our PS4 to help keep it and the TV cool. We have a princess play tent and it gets hot , we clip it in to keep it cool. The charge lasts a long time too, and we'll probably buy another one."



"The fans are cool and the clips work great. The only jingle is the shifting doesn't work when charging. One speed Charlie."



"Just got back from a nice trip to Disneyland. I bought two for our double stroller. During the peak of the 80's, I expected the battery to run out, so I packed a spare solar power bank. Well, I never needed it for our 4 day vacation. It kept my kids (2 and 15 months) comfortable even at the lowest power. We have City Select in case you were wondering. I love this fan A different way to be able to express. This is capable of clipping onto the most daring handlebars and trays. Charging with micro USB is a breeze. My kids can't put their fingers in the blade case...I don't think. The only downside is that it doesn't use Common battery types.. if parents need to run to the store to grab one, it would be nice to have a more common AA. I recommend this product.



"I bought this to clip it to my baby's pram on trips to zoos and parks to keep her cool. I've used it a few times at home but haven't taken it on a long trip yet. It's rechargeable, so I "I'm curious how long the battery will last. It might be a good idea to bring rechargeable batteries. "



"We love this stroller's fan. It clips nicely to the side without falling off. It also allows you to move it in multiple directions to get the right angle and stay in place. I also love it You can charge it instead of having to change the battery all the time. Highly recommend this item and will buy another one for the car.



"This is my second clip fan! Not because the first one failed, but because I love it and now I have two kids to hang out with! The clip fits almost anywhere on the stroller, easy to maneuver and Recharge and keep the kids comfortable in 90-degree heat!"



"I've used it a few times on our jogging stroller, in theme parks, at the beach, and on daily walks. Pros - battery lasts a long time. I've used it for days on end (Disney, Zoo, Beach) and I never No need to charge it. - When the stroller hood is closed and the fan is at max speed, it keeps the interior of the stroller very cool. It was 112 degrees outside one day and he was napping with a blanket under his stroller canopy With the fan on, he's starting to get cold!"



"We bought this to attach to our stroller to keep our newborn cool when out for a walk in the hot summer. It's so helpful! It clips securely to the handle of the stroller seat, allowing Our baby stays comfortable. The adjustable speed and direction are great to keep it from blowing directly into the baby's face."



"I bought this for my newborn after another mom in our swim club recommended it to me. It clips perfectly to the sides of her stroller and car seat. Once it clips on, it's great Easy to adjust to baby. When it comes time to feed or hold baby, I just detach it from the stroller and put it on the table facing us. I think the battery life is good."



"Love this fan. It's super easy to use, the clip-on feature is very secure, but it's still easy to install. I use it on my daughter's stroller and attach it to the middle of the footrest so she doesn't reach out Got it. First time using it over the weekend, it was hot outside, but she still slept like a baby with the fan. It was humming but not loud, and I liked that it charged on battery or USB. Very convenient."



"I love these fans. I bought them in the car for my two kids in the summer. I attach them to the luggage hooks of our SUV and I can point them and guide them towards my kids to keep them cool .I also love attaching one to my Tula baby carrier for my baby when we're at the zoo or outdoors. I look a little weird because the fans aren't small..but I think they're just crazy, They didn't think about it. I like that I can clip them to our stroller too. I just wish the battery lasted longer.. but I like that I can plug them in if I need to recharge them on the road A USB port for your car. I would highly recommend these fans to anyone with kids or anyone who is often outdoors."



"We are Disney annual pass holders and just took our first trip with our 1 month old baby. She was too young to wear sunscreen so I had her completely covered by her stroller and car seat canopy cover on top. I clipped this fan to the edge of a canopy and was able to tilt it perfectly. I checked her body/face often to see if she felt she was too hot, but she stayed cool and Cool. I turn off the fan to save battery when we ride (yes, babies can go on any ride that isn't highly demanding), inside, in the shade, or when there's a light breeze, but otherwise, it Been running around for the 2 days we were there"



"We use this fan on my baby's car seat and stroller. It hangs perfectly on the handle and really uses it when we're walking. We've never had a problem keeping it in place. My only complaint is the battery Lifetime fan. We only had it for about a month. I couldn't find a replacement battery anywhere. Luckily we had a spare charging unit so we could still use the fan efficiently."





baby fan with legs


Baby_strollerf_fan_with_bendable_tripod_legs


"This fan works great! It has three settings and the last one is like a tornado lol! Love that it's not a clip like other portable fans because it holds up better in all the different places. The battery is available via USB Charges up, and comes with an extra battery! Battery life is excellent and lasts a few hours on the lowest setting. The only downside is that the foam on the legs can get dirty and they seem like they might burst if you're rough with them. Great The purchase, however, will definitely buy another one!"



"We took this for a walk in the stroller when it was extra hot outside. The fan worked fine and the battery life was great. Unfortunately the flexible leg broke and both legs were broken at the same time, making it useless. I can't see myself buying another one. Mind you, this is normal use and we're not rude about it."



"I bought this fan for my baby because the weather is super hot and my baby loves it very much, gives him a nice cool air, the fan is almost quiet, the charge is quick and the charge lasts a long time. Also, I love Its legs because it wraps things around more easily. I mostly use it for my baby's car seat and it stays in place and doesn't move at all."



"I originally bought this fan to use it in my baby's stroller, but it's versatile, I use it for his car seat, table, and crib. It's easy tooadjust. Its design is great; the battery life is also great, I used it for 3 days with 2-3 hours of daily use. The only problem I had was when my husband tried to adjust it and a leg broke off the base; however, I emailed the manufacturer and got a replacement. So be careful when adjusting and don't adjust from the base. "




"The first time we used this fan, the battery died (probably 3 hours) on the go. I wish it would last longer, but maybe those expectations are too high. Overall, while this is A really cute fan, really the legs are easy to adjust and baby loves to put it on the car seat to keep him cool in the back seat. Definitely a great idea for those babies running hot in the car."



"I love that it fits pretty much anywhere. The legs are not flimsy so it grips objects well. It has 3 settings and all work/feel great. My baby loves it."



"Broken within a few weeks. If you buy it, maneuver it, don't move it. If you move it from stroller to car seat etc more than 5 times, the legs will come off the fan. No 'not much needed' operation can interrupt them."



"This little tripod fan is a great desk fan. It's USB powered and has multiple speeds. Our office is warm and this is a great little fan to keep you cool. I love the tripod legs, It takes a little messing though to get it perfect."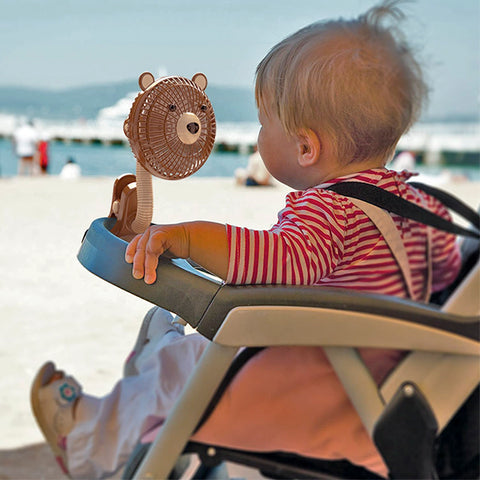 "The 3 legs can bend and move around just about anything. The battery life is great and runs for hours! Great for hot car seats and strollers."



"I love the idea of ​​this product and how it works with anything. However, we ordered this fan at the end of May and two of the three legs were broken in less than 3 months. I can no longer return it I'm still confused as to how the leg broke. Wish they made the leg out of a more durable material."



"I love this fan; the battery life is long enough for our needs and the legs flex perfectly to wrap the stroller. My only issue and the reason I wouldn't give this item 5 stars is one of the legs" in owning and using The product only loosens after a month or so. I can reconnect it, but it doesn't stay connected for long and breaks easily. "




"It's only been a day, but it seems to be fine and fairly sturdy. My baby wears an orthopedic helmet, so this helps with blowing against the helmet while nursing, on the car seat, on his play mat, and on the stretch In the seat. The tripod design makes it easy to lower it low enough to blow wherever he lies. Have a second one ready so we can use two to keep him cool when we're outside. The legs are soft foam that can Collects dirt quickly (toddler brother) so I don't recommend the white. It lasts a long time on low gear."



"Toddler wears spica cast all summer. We need this to keep her cool in the southern summer heat. We love the three speeds and the bendable, movable, grippable legs! We can take it with us Carry it!"










in conclusion




A battery powered stroller fan can be a very useful addition to your stroller.



Whether you choose a clip-on fan or a fan with a tripod, your child will still benefit from the hot southern summer breeze.



Not only are stroller fans portable, compact, and powerful, they can also be used for other purposes, such as cribs, baby car seats, or as a small table fan.



The whole idea of ​​the tripod leg is surprising, as it is sturdier and grips the jogging stroller more tightly than other portable fan clips. The only problem you need to be aware of is that the fan legs can easily break if you move too much. To make it last longer, we recommend having multiple tripod fans for different purposes so you don't have to go back and forth to install and remove it. Most importantly, make sure the fan legs are long enough to wrap tightly around the stroller.



How about a clip-on stroller fan? Well, if you frequently change the position of the fan, go for it! Let's say you need to fold the stroller from time to time, or remove the front flap frequently to get your baby out of the seat. You know the strong clip on the fan will last longer.
Leave a comment