Guide to the Best Battery-Powered Outdoor Floor Fans in 2022
November 02, 2022
by Zoe Lin
A floor fan can be quite useful around the home, garage or workspace. Often used for ventilation or cooling purposes, it's the kind of device that you're glad to have when you need it, but you may not really think of it otherwise. Simply put, a floor fan isn't typically something that someone gets too excited about; but there's a new variation of them that's incredibly unique!
Today we'll be looking into battery-powered, wire-free, outdoor-oriented floor fans. That's right; the time has come where manufacturers are branching out from wired, plug-in floor fans and creating battery-operated, rechargeable units. While they may not be the right choice for those with easy access to an electrical outlet, battery-operated floor fans are ideal for those scenarios where you don't necessarily have ready-access to a plug. Reliant on an internal rechargeable battery, they're perfect for off-grid use, camping, tailgating, or for hard to reach areas.
Using the Fan
Operating the fan is easy. Simply turn the dial and you're good to go; there's nothing confusing about it. What we liked most about the ipanergy Floor Fan the most is its quiet operation and ease of use. The motor is incredibly quiet and the blade cuts through the air with a desirable "whirly" sound. Simply put, you cannot hear the motor unless you crank it all the way up. The most noise you'll get from it is the air moving; no buzzing, vibration or unpleasant effects. Although it doesn't oscilate from side to side, you can easily tilt the fan to virtually any useful angle and utilize the side-knobs to fix its position as you please.
On any speed setting that's lower than half-way, you may even forget that the fan is on; it's that quiet! We love the fact that the Smartele Floor Fan is heavy-duty but still fairly lightweight and very stable. The 12 inch version weighs just over 7 lbs. whereas the 16 inch version comes in at around 9.3 lbs. It's apparent that ipanergy took extra time in designing their battery-powered floor fan. From the sealed, waterproof control box to the all-metal design, it's easy to call it one of the best options currently available on the market.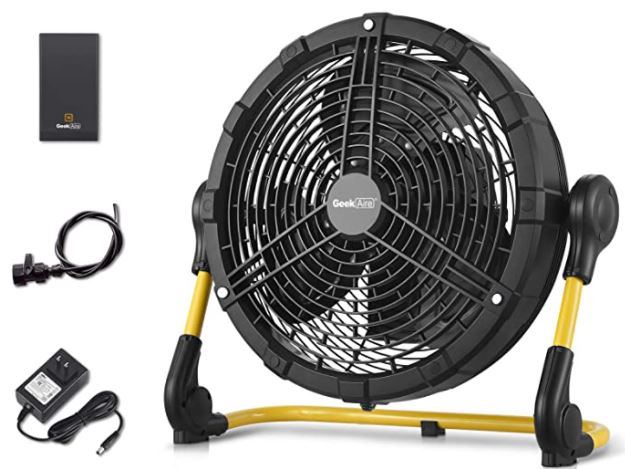 Control and Power
On the back of the fan is a small control box that houses the battery, power input and control mechanism. Here, there's a knob that adjusts the fan speed in a clear, obvious manner. What sets the ipanergy apart from other cordless floor fans is its detachable battery. With it, you can manually remove the battery and replace it with another when depleted. Extra batteries are available on Amazon although they're often out of stock and over $50 each. Regardless, it's a nice feature to have the ability to replace the battery for extra duration or future replacement..
Leave a comment