TOP TIPS FOR YOUR FIRST SOLO CAMPING TRIP-panergy
1. WORK YOUR WAY UP TO GOING SOLO
Your first solo camping trip absolutely should not be to some vast wilderness area. As they say, practice makes perfect, and you don't want to overwhelm yourself your first time out. Solo camping requires a lot of different skills and starting out small is the best route to take.
Solo camping is best for those who have been camping with a group many times before. It is also a good idea to go solo camping in familiar areas that you know well to limit the possibility of getting lost or encountering an unexpected danger.
Gradually work your way up to more difficult camping situations. For example, if you want to work on your fire-starting skills, it is best to bring some backup tools in case you have trouble with your flint. Even skilled campers sometimes run into issues, so it's best to learn basic skills first.
It won't take long before you find yourself taking longer trips into more wild places, but make sure your skills are up to snuff first.
2. FEEL CONFIDENT ABOUT YOUR CAMPING SKILLS
Knowing the basics is crucial to camping alone, but you need to feel like your skill level goes beyond a beginner's.
To successfully camp alone, you need to know how to do these important solo camping activities:
Navigate
Pitch a tent
Build a fire
Clean water, in case your supply runs out and you need to rely on creek water
Set up camp
Handle run-ins with wildlife, including big predators like bears
Forecast weather so you do not end up stuck in a storm
Deal with injuries and other things requiring first aid
Other things would be great to know before going out on your own, but the above list is the bare minimum you must be able to check off before you even think about heading out solo.
3. DON'T JUST GO FOR A NIGHT OR TWO
Sleeping alone in the wilderness is going to be uncomfortable. You're somewhere new and unfamiliar and there is a lot your brain can trick you into worrying about. If you are only giving yourself a night or two on your solo journey, then you're not going to reach the level of full enjoyment you're after.
After a couple of restless nights, you'll finally reach a point where you either become more comfortable or just so exhausted that you will be able to sleep much better.

4. LEARN HOW TO KEEP YOUR MIND CALM
One of the biggest hurdles of solo camping for many people is being alone in the woods, especially at night. It does not matter how many times we remind ourselves that monsters and Bigfoot are — probably — made up. As soon as the sun goes down and it is time to crawl into your sleeping bag, every snapping twig will still make you jump — at first. Over time, you'll learn to recognize the sounds of the forest, and your comfort level will only increase.
There is no magic solution to getting over those fears, and they will probably always remain to some degree. The only way to get more comfortable is to spend time in the woods alone. You can try a strategy for coping with camping anxiety — mentally reassure yourself that everything is OK. If you start to feel overwhelmed from the panic setting in, give yourself a pep talk out loud. No one is around to hear you talking to yourself and think you sound silly.
Once you are at a point where you're confident in your solo camping skill set, you can start to add additional activities to your excursions. Paddling and mountain biking are two great ways to add more excitement and fun to a solo trip into the wilderness.
5. LIGHTEN YOUR LOAD
Since you only have yourself to pack things in and out, be mindful of what you bring. You only need enough for yourself, so be realistic about what you pack for your camping.
Rather than lugging in a tent and a sleeping pad, many solo campers opt for a hammock that only requires the addition of a sleeping bag. If you prefer a tent, pick a lightweight one meant for one person.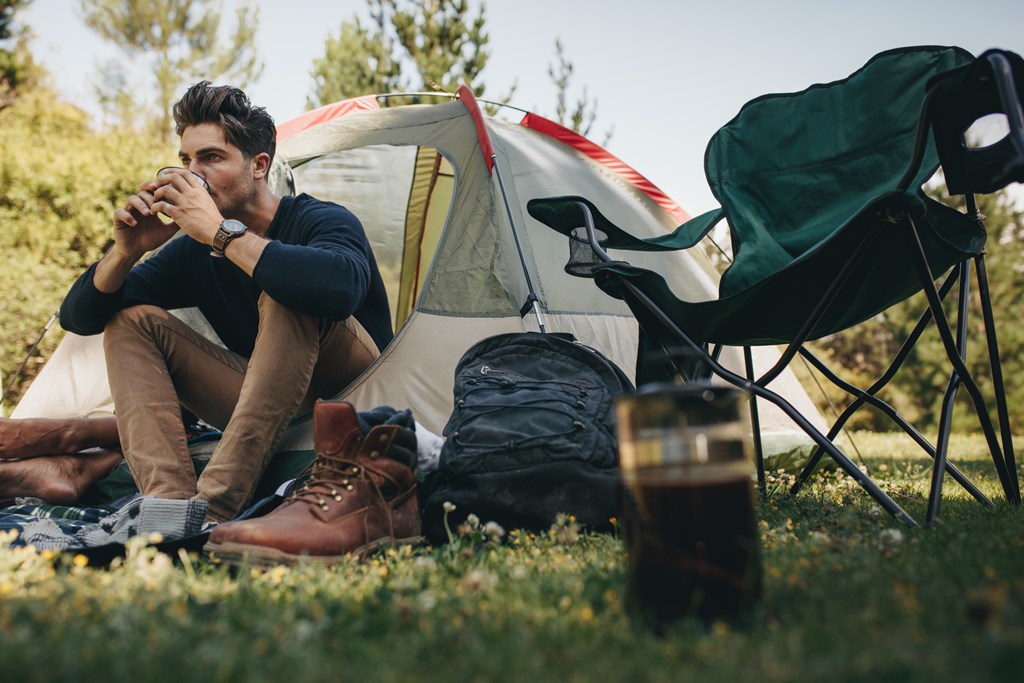 6. PICK SOMEWHERE CLOSE INSTEAD OF A FARAWAY PLACE
As a solo camping beginner, it is a good idea to pick a spot close to your home or one that is familiar. The further you go from what you know, the more distance you put between yourself and people who can help you, memorized trail systems and the comforts you have already come to know.
In fact, before going on your trip, head out to the area for a day hike or a bike ride to scout it out and get a feel for it. Knowing your camping area well will be an immense help in you feeling comfortable and relaxed.
7. SHARE YOUR PLANS WITH SOMEONE
As any camping guide worth their salt will advise — always tell someone you trust where you are going and what your camping itinerary looks like before leaving for a solo camping trip. Always give somebody a heads up before heading into the woods.
If something were to go wrong, knowing that someone can send help is a huge relief. This way, you can avoid a situation where you have to rely on your cell phone during an emergency. At the very least, someone needs to know the day you are leaving, the day you are coming back and where you are going.
8. TAKE SAFETY PRECAUTIONS
It is always better to be safe than sorry, especially when you're out in the wilderness alone. Bring some sort of emergency device, satellite phone or a personal locator beacon with you. A satellite phone is a great way to check in with friends or family back home once in a while so they can rest easy knowing you're safe.
If you plan to hike or explore the area around your campsite while solo camping, make sure not to take any unnecessary risks. An injury as simple as a sprained ankle will be something you simply won't want to deal with. Remind yourself to move more slowly through the environment to minimize your risk of injury and allow you to really appreciate the beauty of nature.
Leave a comment